The all-new season update for Call of Duty mobile has gone live. Season 6 brings Wild West battle pass, including new weapon skins, new operators, and a lot more. Well, the CODM community wasn't expecting much with the update, as according to the new pattern, season update drops every month now, and fans weren't expecting developers to bring too much content with a monthly update.
But, the new update came with surprises, a lot of surprises. Season 6 brings not only new weapon skins and operators but also new operator skills, new tactical bomb – Cryo Bomb, new weapons, and more.
The new operator skill called Annihilator is currently locked, but players can earn it easily. In our previous post, we have mentioned how to get the all-new Annihilator. Make sure to visit the link mentioned below to read more.
---
---
As always, most of the new content is for the Multiplayer mode, but season 6 also brings new content for Battle Royale mode too. BR mode gets a new class named Poltergeist, which has got two specialties, primary being the Active Camo, whereas, Voidwalker is the secondary.
Active Camo – Become near-invisible for a short duration
Voidwalker – Increases running nad walking speed in a stealth state.
Poltergeist class is now available in the game, but the current status is locked.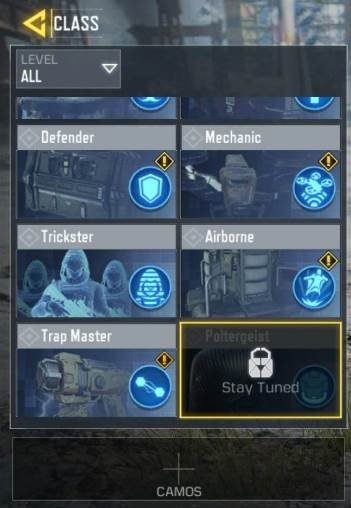 Well, a lot of players are asking how to get Poltergeist class in Call of Duty: Mobile, as the status says, "Stay Tuned." You are going to find many articles and youtube videos that claim to unlock the Poltergeist class now by a trick. But all these posts are just click-baits.
Poltergeist class can't be equipped in the game; for now, developers will introduce it at the end of season 6. Players will be able to unlock the new BR class by completing the in-game events. Many reports suggest that the new Poltergeist class will be unlockable by completing the Seasonal Events, where players will need to complete a series of tasks to unlock the new item.
Later on, at the season end, it will be made available to the store, like Trap Master class. Players can buy the class with the in-game money and experience the Poltergeist class even if they do not get a chance to complete the tasks.