Want to earn quick Bucks with the Lemonade stand in Adopt Me but don't know how to get one? Well, you have landed on the right place as we have all the information you need to acquire a lemonade and start earning bucks easily. Here's everything you need to know.
Adopt Me- Lemonade Stand
The Lemonade Stand in Adopt Me is one of the rarest toys released first in 2019. It is mainly used to earn bucks and surprisingly it can earn you enough bucks to purchase your needs in Adopt Me. Each lemonade is sold at a price between 1 to 20 bucks by the player. And one cannot increase or decrease the price of the drink than the stated amount on the Lemonade Stand.
So, you might be wondering how to get this Lemonade Stand and earn some quick bucks. Well, for that you need to head down.
Adopt Me- How to get a Lemonade Stand?
The Lemonade Stand can be acquired in two ways.
Buy it from the shop using Robux.
Get the Lemonade stand by trading it for other valuable items
So first, let us see how to get it using Robux.
In order to get the Lemonade Stand using Robux, you must have 50 Robux in your account. If you have that amount, go to "Shop" and find the Lemonade Stand and buy it using the 50 Robux you've got.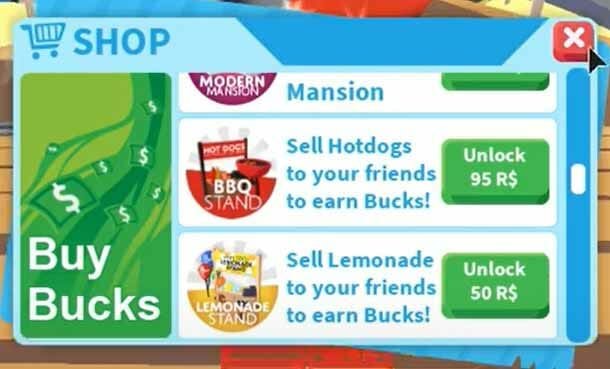 So, now after purchasing, the Lemonade Stand will be available in the toy section of your backpack. You can place the Lemonade stand on the ground and sell Lemonade to earn bucks.
If you don't have enough Robux, you can get the Lemonade Stand by trading. So, to acquire the Lemonade Stand by trading you need to find players who are ready to trade the Lemonade Stand and you'll have to offer a decent amount of items in the trade to get the Lemonade Stand. So, act wisely and you might be able to get the Lemonade Stand in a good deal.
Adopt Me- Recent News
Did you know that new eggs are coming to Adopt Me? Yes, new Ocean eggs are going to be introduced in the game as a replacement for the fossil eggs. It is official that the fossil eggs will be leaving Adopt Me and the Ocean eggs will be taking their place. These ocean eggs will be featuring some new and interesting water pets and according to YouTuber @PREZLEY, the Ocean eggs might be added to Adopt Me right after the Lunar New Year Update. So, it may be just a week worth of wait for the ocean eggs to be released in Adopt Me. To know more, visit here.