Roblox developers keep introducing new features now and then in Roblox. This keeps the players attached to the game, as they always have something interesting to try out. That said, recently, the developers added a new Roblox Connect feature to the platform. This feature allows players to call their Roblox friends. Does it sound interesting? Well, it's not the usual calling feature. The users can connect to their friends with their avatars. Hence, it provides an immersive experience. In this article, we will be guiding you on how to use this feature in Roblox.
Roblox is an online game platform and game creation system. It was developed by the Roblox Corporation. Roblox allows users to program different games and also lets players enjoy those games developed by others. Recently, the Roblox developers released a new feature in the game. This feature, namely Roblox Connect, enhances the socialization aspect of the game. It offers a unique way to connect with friends. Unlike other voice chat applications, it has a unique feature where players can use their Roblox avatars and hang out with friends in the game. For now, it is only limited to 1-on-1 calls. Want to know how to use this feature? Continue reading to learn more.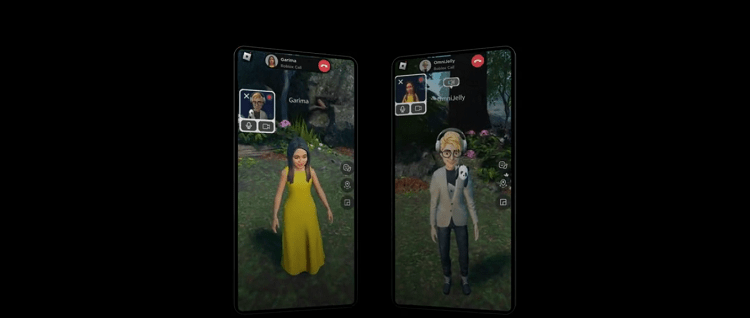 How to call people on Roblox?
Roblex Connect has not been fully released yet. Well, the demo is still accessible to users. But, it is expected to roll out for the entire game soon. However, note that users aged 13 and above are eligible to use this feature. Now that we have discussed eligibility, let's get started with the guide. 
How to enable voice chat and call people in Roblox?
You first have to access the Roblox Connect experience on your device. Since it is in beta testing, there might be some issues. So, if you fulfill the eligibility criteria as mentioned above, follow the steps below to call a friend in Roblox.
Enable Voice Chat in Roblox
Go to Account Settings in Roblox.

Complete the Age Verification process. You will have to provide your real IDs to pass this verification.

Once completed, head over to the Privacy Tab.

Now, make sure that the "Use microphone to chat with voice" option is enabled.
How to call?
Once everything's set up, open the Roblox Connect Experience.

Navigate to the friend panel in-game.

It is visible on the left-hand side of the screen.

Select whichever friend you want to call. Once you send a call request, your friend will get the notification, and they have to accept it and join the call.
Note that you can only call people on your friend list. This feature protects you from getting annoying calls from strangers. Anyway, that is all for this guide. Ensure that you fulfill the prerequisites to use this feature in Roblox. Well, we hope that this guide was helpful to you. So, enjoy this new feature with your friends. For more such guides and updates, visit DigiStatement daily. Also read: What does preppy mean in Roblox?