Updated August, 21, 2021 : Two more eggs including Mythic Egg & Ocean Egg have been introduced since February 2021. Mythic Egg was released on August 19, 2021 which has replaced the Ocean Egg. Mythic Egg costs $750. 8 new pets have been introduced under the Mythic Egg update which includes the following :
1) Goldhorn
2) Wolpertinger
3) Hydra
4) Merhorse
5) Wyvren
6) Phoenix
7) Kirin
8) Sasquatch
---
Original Post from February 15, 2021 follows below
Well, Adopt Me features a variety of pets in the game. These pets are mainly obtained through eggs or through trading. But eggs are the primary source through which you can get pets in Adopt Me. So, in this article, we will discuss all the eggs available in Adopt Me right now and what pets can u get through these eggs. Here's everything you need to know.
Eggs in Adopt Me- 2021
Well, there are certain classifications of eggs in Adopt Me. These are Starter Eggs, Permanent Eggs, Limited and Themed Eggs, Blue Pink eggs, Event Eggs, Star Reward Eggs. Some of these eggs are not available in the game right now and some of them are always available. So, let's find out.
Right now, there are five eggs available in Adopt Me which can hatch into common, uncommon, rare, and legendary pets. The eggs are sold on a machine called the Gumball Machine.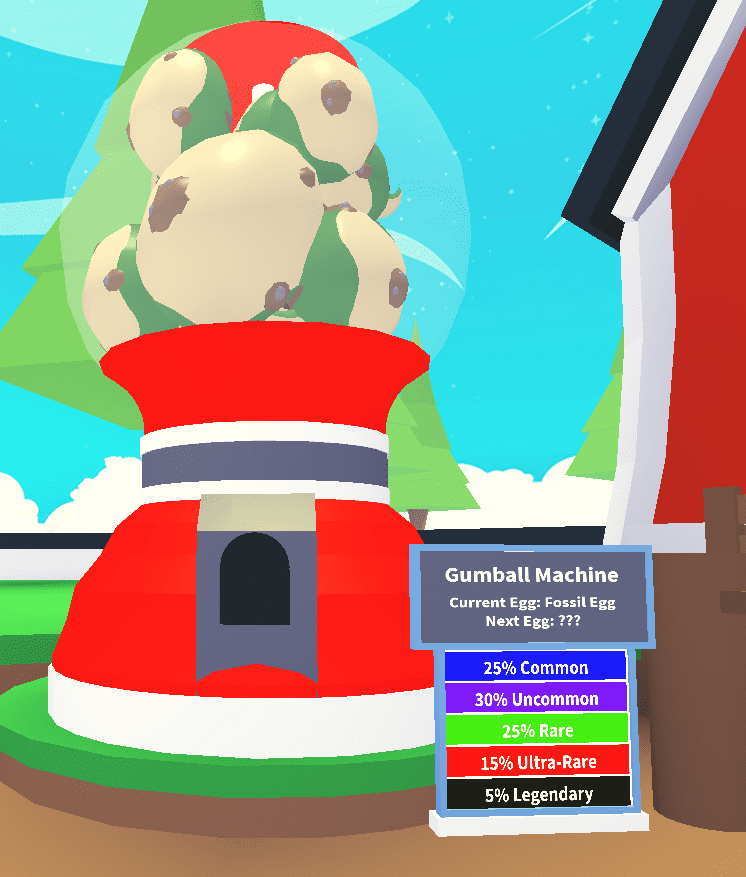 The Starter egg is provided to the player when the player plays Adopt Me for the first time. This egg is not tradeable and can only be redeemed once.
The Permanent Eggs are always available in Adopt Me and these include- Royal Egg, Cracked Egg, Pet Egg. These eggs can be bought for 350 bucks each in the Gumball Machine.
The Fossil Egg(under limited and themed eggs) is currently available in Adopt Me for 750 bucks. This egg was released back in Oct 2020 and will soon be replaced by a new egg. The following pets can be found in this Fossil egg-
Ground Sloth (Common)
Tasmanian Tiger (Common)
Glyptodon (Uncommon)
Stegosaurus (Uncommon)
Triceratops (Uncommon)
Dilophosaurus (Rare)
Pterodactyl (Rare)
Woolly Mammoth (Rare)
Deinonychus (Ultra-Rare)
Sabertooth (Ultra-Rare)
Dodo (Legendary)
Tyrannosaurus Rex (Legendary)
So, if you really want any of these pets, now is the time to buy the fossil eggs as it is going to be leaving the game soon. To know more about when fossil eggs are leaving Adopt Me, visit here.
Want to know which new egg is replacing the Fossil Eggs? Find more information here.