If you are also getting a hard time defeating Natsai in the Charm Class of Hogwarts Legacy, then you are at the right place. In this guide, we are going to provide tips and strategies to help you be victorious. So, continue reading this guide till the end.
Developed by Avalanche Software and published by Warner Bros. Interactive Entertainment, Hogwarts Legacy is an action role-playing game set in the wizarding world of Hogwarts. The game takes you back to the 1800s when there was no introduction to Harry Potter books and movies. In this game, you take on the role of a student at Hogwarts School of Witchcraft and Wizardry. As you progress through Hogwarts Legacy, you'll find yourself facing challenges in various classes, including the Charms class. One particularly difficult opponent you'll encounter in this class is Natsai. Well, here are some tips that can help you defeat Natsai easily in the challenge.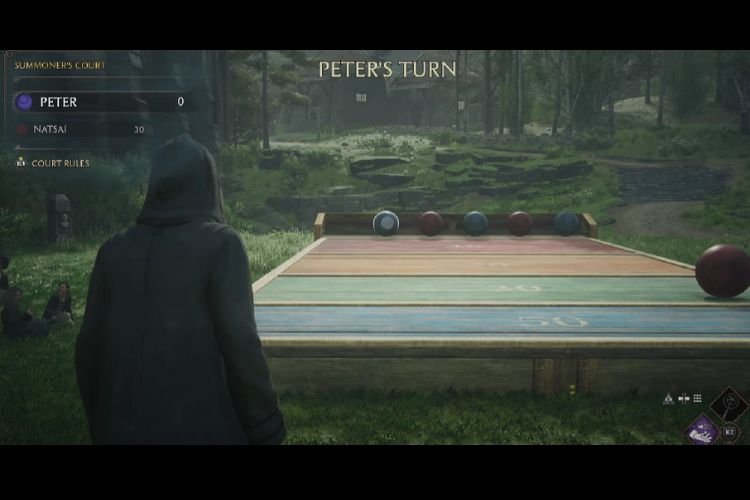 How to defeat Natsai in Charms Class in Hogwarts Legacy?
The challenge that you deal with against Natsai is a test of the "Accio spell". Accio is a summoning spell that is used to bring objects toward the caster. In the game, players can use the Accio spell to gather ingredients, retrieve objects that are out of reach, and even disarm enemies. Coming back to the challenge, it requires you to pull the blue-colored balls present at a distant location and make them stop at a certain area to earn points. There are 5 sectors on the surface with points ranging from 10 to 50. The better you will cast this spell, the more the chances are of your winning. Well, the trick to guarantee that the ball lands on the 50 points area is to make sure that you stop using the spell when the ball reaches the orange area. So, by the time it slows down and stops, it will be in the blue area giving you 50 points.
You will get through the first phase of this challenge easily as it only includes pulling the balls towards you and stopping them at 50 points area. But, there is a second phase too. In the second phase, this test becomes more challenging with the introduction of moving wooden blocks between the balls and you. So, be accurate with your timing so that the balls do not get blocked by the moving wooden blocks. However, trying this challenge multiple times will give you an accurate idea of the timing and you will get through it eventually.
This brings us to the end of this guide. It was everything regarding how to defeat Natsai in Charms Class in Hogwarts Legacy. If you found this guide helpful, share it with your friends.
Related: Hogwarts Legacy Characters having Robotic Voice Issue: Is there any fix yet