You must have heard, "When it rains, it pours." Well, we for one aren't referring to this phrase in the negative sense. Since NVIDIA launched their GeForce RTX 3000 series, third-party manufacturers have been knocking at our doors with their customised sets. The first of which was the impatient ZOTAC. They unveiled their Trinity Holo even before NVIDIA's official event took palace. Their close rival ASUS followed and teased us with renders of ROG Strix GeForce RTX 3090. They announced their Ampere GPU trio of ROG GeForce Strix, TUF GeForce RTX and Dual RTX a day after NVIDIA's event. This Chinese domination was then broken by EVGA and their curvacious GPU line inspired from the GeForce RTX 30s. It's now GIGABYTE's turn, another crucial player in the graphics card business.
GIGABYTE GeForce RTX 3080 EAGLE and GeForce RTX 3090 Eagle in flesh
GIGABYTE has introduced a family of four GPUs built on NVIDIA Ampere architecture. Unlike ASUS and EVGA, GIGABYTE has no room for the least powerful RTX 30, the GeForce RTX 3070. A pair of its GPUs are built on the same platform as the GeForce RTX 3090. The other pair on younger sibling GeForce RTX 3080. These are codenamed EAGLE. All four of these house GIGABYTE WINDFORCE 3X cooling tech which will make the most of three Axial-tech fan assembly. The Ampere platform brings an improvement factor of 1.9X performance-per-watt compared to the RTX 2000s. The alternate spin system of the pivot fan and Screen cooling will all be major contributors to successful heat dissipation.
The GeForce RTX 3090 GAMING OC 24G and GeForce RTX 3090 EAGLE OC 24G
The GeForce RTX 3080 EAGLE OC 10G and GeForce RTX 3080 GAMING OC 10G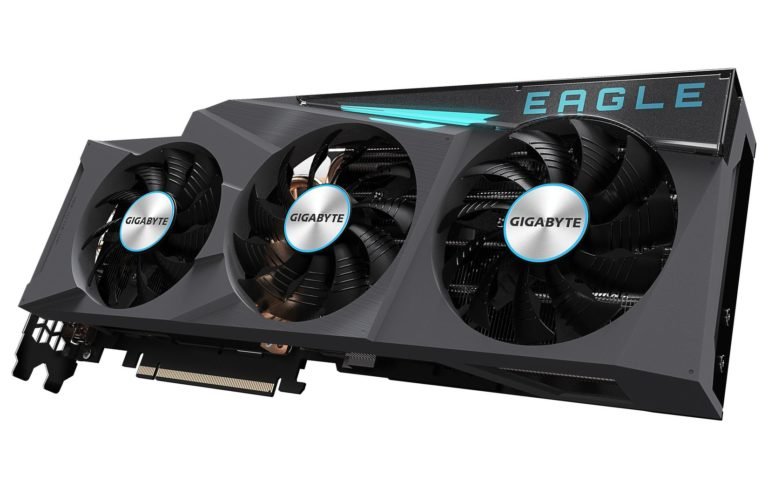 Each of these customised graphics cards from different manufacturers has added fanciness to the appearance in their own unique style. The Trinity Holo is all about muscle and glows with attractive LED embellishments. The ASUS GeForce ROG Strix and GeForce TUF Gaming happen to be premium and lustrous, with crisp metallics. The EVGAs are astonishingly curvy in a likeable manner. GIGABYTE though has gone simple with the exterior of the cards. Some very sharp edges and pointed cuts justify the EAGLE codename. GIGABYTE is expected to follow these initial bunch of 4 with special AORUS cards for gamers. Those are suspected to work on both air-cooled and water-cooled designs. Well, bring it on GIGABYTE.