It is only a matter of hours now before we get to set our sights on the NVIDIA GeForce RTX 30 Series. NVIDIA's attempts at building suspense around the new Ampere based GPU series were appreciable. Of course, multiple leaks from multiple sources have all led to some sort of predictability around the new line. Adding to the list of agents that have the intentions to spoil NVIDIA's party is ASUS. Pictures of the ASUS ROG Strix GeForce RTX 3090 have been circulating on the web. This follows the revealing of ZOTAC's Trinity Holo, which was the first customized graphics card built on the RTX 3080/3090 platform. Something tells me NVIDIA was already prepared for this.
About the ASUS ROG Strix GeForce RTX 3090
The rumour mill had started its production about ASUS ROG Strix back in July so this is not exactly unexpected. Back then, the render of the ASUS customised card was said to be built on a certain "RTX 3080 Ti". This is now clear after NVIDIA informed it will release three SKUs, the GeForce RTX 3090, RTX 3080 and RTX 3070. Quite like the ZOTAC Trinity Halo in its built, the ROG Strix has got a lustrous outfit along with LED embellishments. The clear photos were obtained through VideoCardz of the ASUS ROG Strix GeForce RTX 3090. They also predicted that ASUS would manufacture both the RTX 3090 and RTX 3080 customs on same board design.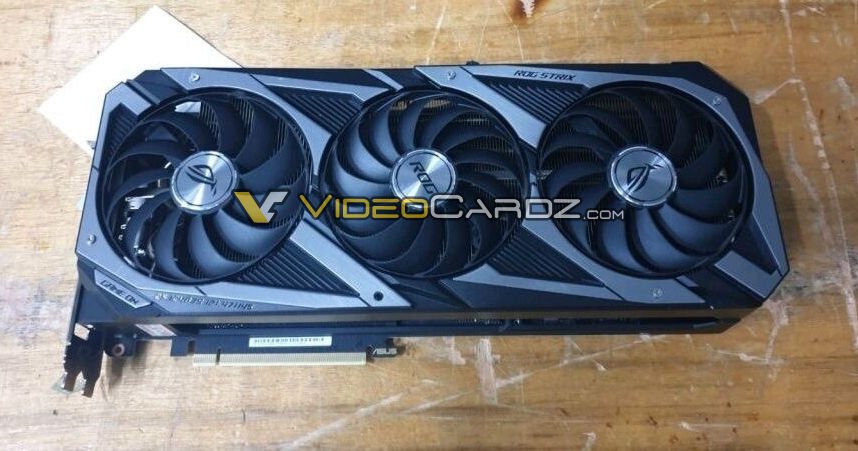 The ROG Strix is stocked with triple slots and complimenting its chunky body is the Aluminium fin-stack heatsink. This GPU system will be ventilated by three Axial-Tech fans. ZOTAC gave away a lot of features of NVIDIA's new Ampere GPU line release. This made assessing the ASUS ROG Strix GeForce RTX 3090 that much more easy. In fact, most custom graphics card of Ampere architecture seem pretty predictable now. ROG Strix RTX 3090 will have three 8-pin PCle power input while the ROG Strix RTX 3080 carry only a couple of those. So then all the wait is for NVIDIA to launch the originals now.