The graphics card space is enjoying a vivid spell of continuous spotlight ever since NVIDIA's Ampere line debuted. RTX 3000s have been received with warm hugs and considering their popularity, prediction of fast sales is no brainer. Well, there is still time for the official NVIDIA family line to go on sale. Meanwhile, custom graphics card manufacturers have given their best to lure customers towards them amongst increasing competition. GIGABYTE had initially released the EAGLE and GAMING GPUs inspired from the RTX 3080 and RTX 3090. These were both over-clocked and non-OC variants. Now, they are ready to stir things up with the newest entrants, the custom builts GIGABYTE GeForce RTX 3070. 
GIGABYTE GeForce RTX 3070; It's an OC thing!
The two SKUs on offer from GIGABYTE are an addition to their EAGLE and GAMING lines. The EAGLE and GAMING differ slightly, both in dimensions and what they pack inside. The PCBs on the two have been noticed to be smaller in comparison to the xx70 family of cards. Built on the standard GA104 chipset, the RTX 3070 on all customs and on GIGABYTE too, have the non-X memory of 8GB capacity. The three Axial tech cooling fans on the GAMING come as a pair of 90mm and singular 80mm assembly. However, the EAGLE is more uniform in terms of the dimensions of these, with all fans an 80mm assembly.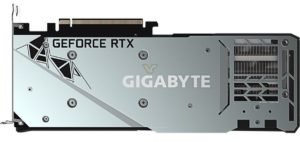 Featuring 5888 CUDA cores, GIGABYTE is yet to provide any update on their clock speeds. However, they would all be factory enhanced as these are branded with the OC label. The key difference between the GIGABYTE GeForce RTX 3070 EAGLE and GAMING boils down to the cooler. The setup on the EAGLE is a usual 41mm dual slot, while the GAMING houses a rather thicker 51mm slot. The EAGLE and GAMING RTX 3070 are about 4cm shorter than the RTX 3080 models. Reports suggest that NVIDIA will launch RTX 3070 by mid-October, so we expect GIGABYTE to launch its customs close by.  GIGABYTE would want to price its customs aggressively in comparison to those of NVIDIA. The Green Army would expect NVIDIA RTX 3070 to cost around 499 USD.