And over 14 billion Slimes have also been eliminated by Teyvat travellers – see these and other curious miHoYo RPG statistics. Genshin Impact was released on September 28 for PC, PS4 and smartphones, accumulating a legion of players who fell in love with the world of Teyvat and its characters. Since then, travellers have eliminated more than 17 billion Hilichurls and more than 14 billion Slimes, some of the game's most common enemies. The data were revealed by developer miHoYo on Tuesday (29).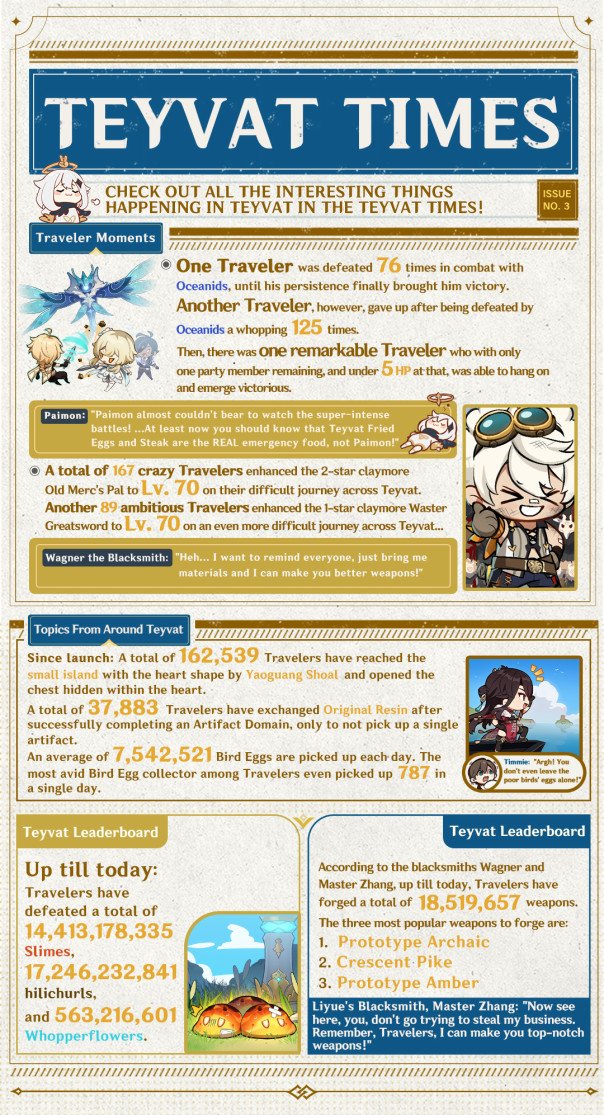 As part of the Teyvat Times, the studio published a series of curious statistics on Genshin Impact, which even leads us to question how miHoYo can record and track such specific information. For example, it was revealed that one player was defeated 76 times by facing boss Oceanid to finally win the fight, while another was victorious with only one character of 5 HP remaining in the team.
See more curious Genshin Impact statistics from the launch so far:
167 players strengthened the two-star sword Mercenary's sword to level 70
89 players strengthened a star's sword Spike of Judgment to level 70
37,883 players spent Original Resin after completing an Artifact Domain, but did not pick up any artifacts before leaving
7.5 million Bird Eggs are collected daily – one player collected 787 eggs in a single day
More than 560,000 Giant Flowers have been eliminated since the launch of Genshin Impact
Players have forged more than 18 million weapons, the most popular being the Archaic Prototype (formerly Animus Prototype), Crescent Pike and Amber Prototype
Genshin Impact is free and focuses on characters, each with their own elements and abilities. There is an extensive map for exploration, several possibilities for combats, adventures and activities. The main way to get new items and characters is through the system known as "gacha", in which players must invest their resources in a kind of slot machine, without any certainty of the content they will get. Since its launch, the game has received updates with new characters, missions and story development.
Follow us for more Genshin Impact related news and updates.