It will not be wrong to say that Gas Station Simulator is an unexpected hit on Steam. Obviously! Surviving this good in the universe where action and adventure games are mostly preferred is something to boast about. Simulation games have started building their space in the gaming world, and Gas Station Simulator is a good example of how. It is a single-player simulation game developed by DRAGO Entertainment and published by Movie Games S.A. and HeartBeat Games.
Okay, so what makes you super stressed while playing a game? Is it killing an enemy camping inside a house? Or is it completing the daily tasks given in the games? These are nothing compared to what you have to do in Gas Station Simulator.
You will have to manage a cash register, a garage, a fuel pump, and a warehouse delivery all at the same time in the game, and there is nothing more stressful than this. The game is all about owning a gas station and running it. Players will be given a gas station in some deserted part of USA, and they have to turn the barren stain into a full-fledged running business!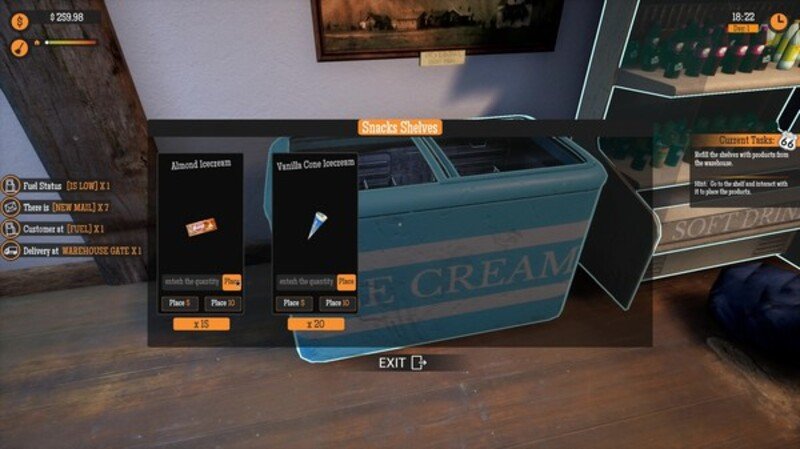 If you have played Euro Truck Simulation 2 or Farming Simulator 17 before, you know what to do here. You are tasked with taking an old abandoned gas station and restoring it to its former glory. This does not mean that you have to offer simple gas filling services. Nope! You have a lot more to do like cleaning the place and renovating it.
As you start attracting more customers and earning more profits, you will be able to expand your business by getting a warehouse of your own to stock things up. You can also have the own garage to fix some mingled tires and smashed mirrors to have some more money!
Gas Station Simulator has a lot to offer in terms of gameplay and content. You will have a lot of mini-games to play and other interaction features as well. But with every game, there come some amazing (sarcastic!) bugs and glitches. And Gas Station Simulator has loads of them. Yeah, it is true. The game has come with loads of bugs and glitches, and most of them are quite funny.
One such issue which the players are facing is the employee getting stuck issue. Most of the players have reported that their employees who are hired to fuel the cars get stuck either near the car or the walls or somewhere else. This has been a commonly reported issue, and while some consider this to be funny, some have termed it as a serious one.
Well, there is a solution for this issue as suggested by a developer of the Gas Station Games. According to a dev, the issue of an employee getting stuck while fueling the vehicle usually occurs during a sandstorm. This is a small glitch and can easily be fixed. Here is how you can fix this.
The quick tip is to first use Rudy to remove the sand fast. Then you can press F5 to autosave the game. Right after doing this, you can hit the F9 button to load the autosave. This will get the worker to reset and unstuck.
Keep following Digi Statement for more effective solutions like these!