Third party manufacturers of graphics cards are in a race of their own since the arrival of NVIDIA GeForce RTX 3000s. The Ampere GPUs are seen as an opportunity for each brand dedicated towards an audience that appreciates gaming. ASUS, EVGA, GIGABYTE and MSI have all publicized their custom builds and GALAX seemed to be lacking in its efforts. That would not be the case anymore. If an internal leak is to be believed then GALAX GeForce RTX 3080 and GALAX GeForce RTX 3060 will soon arrive in the market. Stills of a meeting reveal that developments are being made in the desired direction. The brand identity being confirmed by the logo mentioned on the top left corner. 
GALAX GeForce RTX 3080 to sport 20 GB GDDR6X memory? 
On closer inspection we can see the GALAX GeForce RTX 3060 which is certainly the first sight of this variant from the brand. Earlier speculations suggested a superior Ti model would be released for RTX 3060. There isn't sufficient to comment on that just yet. The RTX 3060 custom built by GALAX is estimated to be built on TU106 Ampere GPU. Will we see a non-Ti model followed by the Ti one? Only time will tell. However, the real deal here is the GALAX GeForce RTX 3080. As per the slides it is set to feature a 20 GB dedicated VRAM. This means it will be placed between RTX 3080 10 GB and RTX 3090. Now that is a hard bet to reject.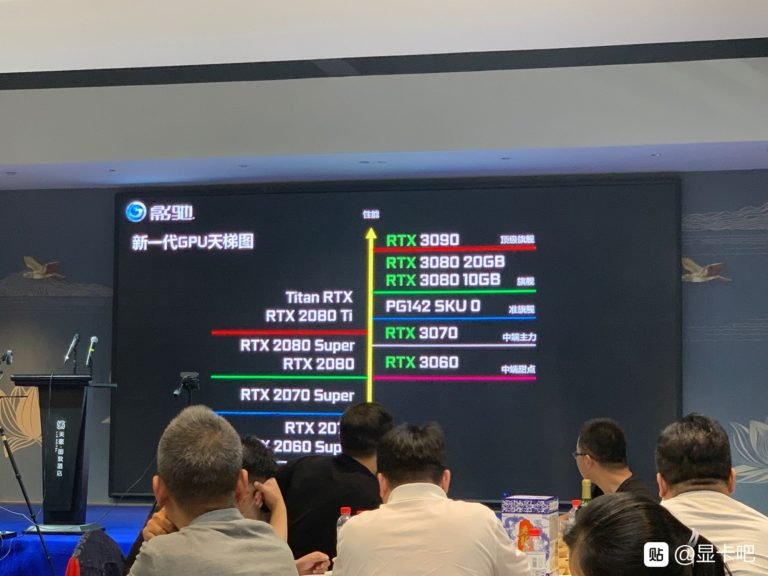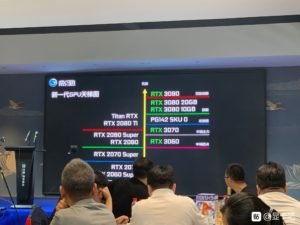 GALAX GeForce RTX 3070 might get a makeover and be sold in a better avatar as the RTX 3070 Ti or Super. The title PG142 SKU 0 suggests this in the slide. This will feature a full fledged TU104 Ampere GPU with 6144 CUDA Cores. GALAX's custom builds have recently made a lot of noise courtesy Tech Labs. A RTX 2080 Ti from GALAX had recorded milestone figures in clock speed not long ago. Well, there's no denying that GALAX has always had the capacity to outdo its competition. Meanwhile, we wait for this project to shift from a concept slide to real conception.