The previous month was hugely dedicated to NVIDIA's upcoming Ampere architecture driven generation. We know that the GeForce RTX 3000 series will inspire some classic customised gear. Well, little did we know that an entity from the past would grab the headlines as this one did. TechLab team put NVIDIA GeForce RTX 2080Ti GPU under testing and to everyone's surprise, they broke some fine records. After days of continuous efforts, Ronaldo and Jackson pulled the highest frequency ever attained on the RTX 2080Ti. All the test figures were observed on the popular CPU-Z software. CPU-Z with its new update version 1.93 adds support for the upcoming Tiger Lake processor too.
What went down at TechLabs with GALAX GeForce RTX 2080 Ti?
The GeForce RTX 2080 Ti is powered by NVIDIA Turing processor. The graphics card that TechLab broke these records with was a GALAX manufactured OC Lab Edition. Now the figures that were recorded by Ronaldo and Jackson are a testament to the giant leap that they were able to make. NVIDIA's stock GPU, the GeForce RTX 2080Ti clocks a standard 1350 MHz in the entry-level base configuration. The standard unit also manages an impressive 1680 MHz when in boost configuration. At TechLabs they twisted the conditions and thanks to liquid nitrogen, the custom Galax card clocked 2243 MHz (base) and 2573 (boost) MHz. That's an addition of 893 MHz. It is important to mention that the graphics memory on the Galax OC Lab Edition was in fact downclocked (1653 MHz) compared to NVIDIA's 1753 MHz.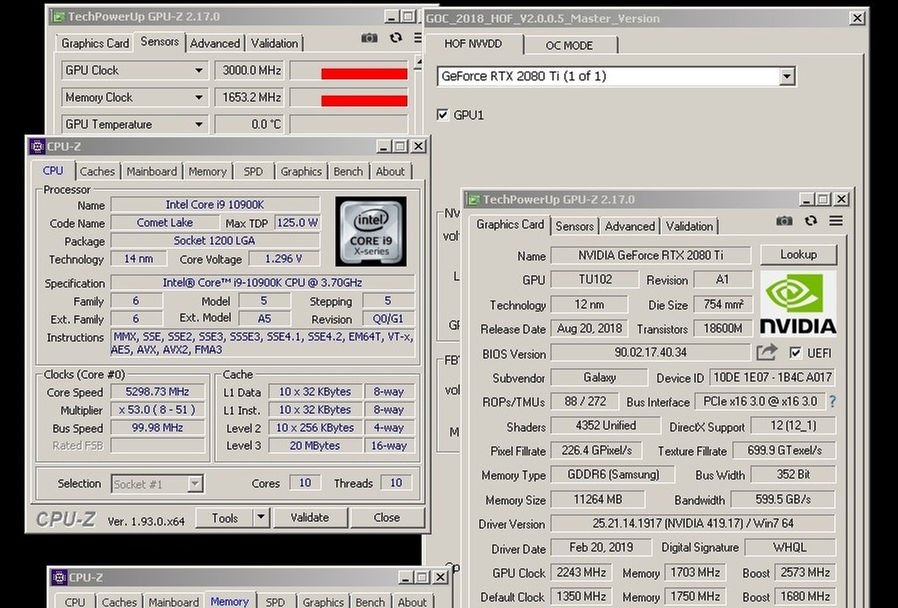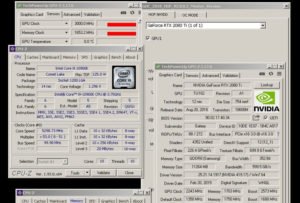 The system at TechLabs ran Intel's 10th generation i9 processor. Powered by a Samsung B-Die DDR4 4.2 GHz memory and ASUS ROG Apex XII motherboard, the GPU was impacted with minimum lapping. Now the clock speeds achieved are surely glorious to look at but the GPUPI scores observed were not so striking. For people experimenting with GPUs trying to achieve record-breaking clock speeds, GALAX seems to be an ideal choice. GALAX's custom unit of GeForce GTX 1060 was once recorded to touch clock speed of 3012 MHz. This feat is special due to the size of GPU which took considerably more attempts and efforts to clock and cool down.