The FNF community never disappoints when it comes mods. One after another, many new mods have been churned out from ideas shared by fans and modders alike. One such mod that is making the rounds is the Friday Night gunnin' mod. To know more read on…
For the first timers out there, Friday Night Funkin' is a rhythm game programmed by Ninjamuffin99 with a soundtrack by Kawai Sprite and artwork by PhantomArcade and evilsk8r. It can be downloaded from the Itch.io website for Windows, Mac OS, and Linux devices or played on Newgrounds for free.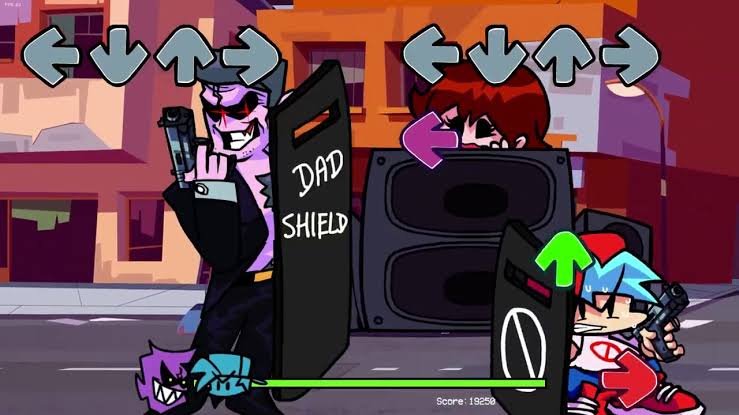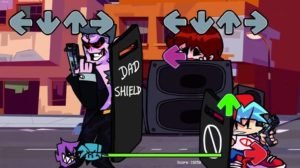 The Friday night gunnin' mod, developed and shared by NCHproductions, is essentially FNF, but with guns. This mod has the following salient features:-
1) In this mod, the boyfriend and daddy dearest both have a gun and a shield.
2)The boyfriend can fire shots at daddy dearest and daddy dearest can fire back at the boyfriend.
3)The shooting happens automatically with the character movements.
4)The guns and shields can even be used as skins for the boyfriend and daddy dearest.
It is to be noted that the firing happens only when the song FRESH is being played. The modder has acknowledged this constraint and has announced that a developed version which includes the firing animation with all songs is underway. The mod has been very well received by the fanbase for its creativity, immersive gameplay and because the shooting dwells in perfectly with the dance and music.
The steps to download this mod are as follows:-
STEP 1-> Make sure FNF is downloaded and running.
STEP 2->click here to download the mod.
STEP 3 ->Extract the mod's contents from the archive file that gets downloaded and add it in the assets folder of the game.
STEP 4 – >Step back and enjoy!!!
Happy Gaming!!!
Developer credits:-Ninjamuffin99 Kawai Sprite, PhantomArcade and evilsk8r.
Mod credits:-NCHproductions.