Week 6 update of Friday Night Funkin has been recently released with new content. Well, not for all platforms though. Yes, the update is currently released only for Windows and Linux so macOS users are still waiting for it to be released on their OS. So, when will it be released? Here's everything you need to know.
Friday Night Funkin- Week 6 update
Friday Night Funkin's week 6 update was released on 2nd Feb 2021 with the introduction of 3 new tracks and a new character. The new tracks are
If you wish to add these tracks to your playlist, visit here
Well, it also included a new character called Senpai, the dating sim. However, the release of Week 6 of Friday Night Funkin was limited to Windows operating system only, for the first couple of days. After that, the game received Linux support for Week 6 update but macOS users are still under the shadows as their version is yet to receive the Week 6 update.
The macOS users are going crazy over the fact that the game received the Week 6 update for Windows and Linux but not theirs. So, many took it upon themselves and started posting regarding this on itch.io.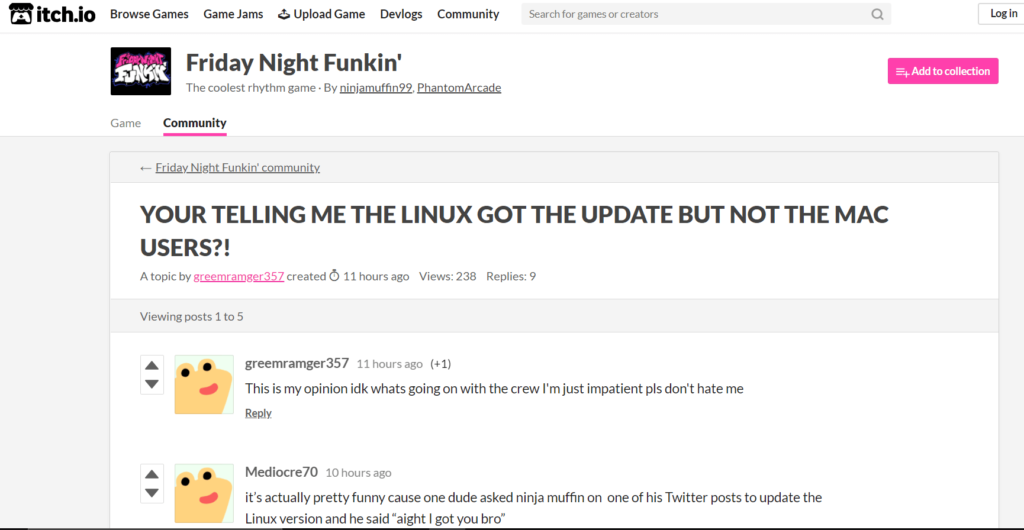 The game was created and is managed by @ninja_muffin99 who is quite active on Twitter responding to the queries of players about the game. So, for those who have been worrying that why isn't macOS getting the update, the simple answer is that it takes time to update each version. Since the game is managed by a single dev, the update is bound to take time to be finished. So, all we can do is have some patience and wait for the dev to release it for macOS as well.
Friday Night Funkin- Recent News
Many users have reported about Friday Night Funkin's loading screen issue which is restricting access to the game. So, we have prepared a detailed guide on how to fix the issue and get your game working properly again. For more details, visit here.
Even Chromebook users are facing the same issue. But don't worry, we have you covered here as well. To know more, visit here.