Good news for all the Roblox players out there! The iconic Friday Night Funkin is coming to Roblox disguised as Monday Night Movin. Here's everything you need to know.
Friday Night Funkin
Friday Night Funkin is a very popular game. However, there might be players who have never even heard of it. So, Friday Night Funkin is basically a rhythm game developed by @ninja_muffin99. It features a story of a boyfriend who is trying to impress his girlfriend but isn't able to do so. He faces hurdles disguised as the family members of his girlfriend who are determined to defeat him in a battle of music. So, the boyfriend has to fight them and win, to impress her.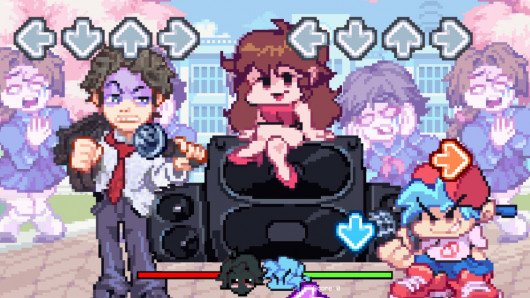 From this, it is obvious that the game heavily depends on in-game music. Fortunately, the game features catchy tracks as well. FnF gets updates every 2-3 weeks and each update introduces new tracks and characters. Currently, the game is live with the Week 6 update but, Week 7 update is expected to be released this month as the tracks have been finalized.
Monday Night Movin- Roblox
Now, let's talk about the new game, Monday Night Movin. It is a recreation of this iconic title. It is currently under development and is developed by @CleetusCo.
NEWS: A new game is being developed known as Monday Night Movin which focuses on CLEETUS characters! It is a recreation of Friday Night Funk in' but in Roblox. It is developed by @CleetusCo . pic.twitter.com/MWJARBBY2H

— RTC (@Roblox_RTC) March 1, 2021
This new title is going to be featuring the Cleetus characters and will be resembling the mechanics of the original title.
so basically we are mak̶̝̪͉͈͔̘͆́̾̓̓̓͜ͅǐ̴̡̧̛̼͚̽̑̈́͒̓̎̋͋͜͠n̷̟̮̥̂̏̌̏g̶̨̛̥̣̝̥̮̭̹̙͒̀̽…

beep beep! BEEP BOOP BEEP BEEP BOP! BEEP BEEP!!!#MondayNightMovin' #CleetusCo

(we're making a Friday Night Funkin' Roblox game, POGGERS!) pic.twitter.com/dOGejQcnNY

— CleetusCo. (@CleetusCo) February 25, 2021
It will be interesting to see the recreation of FnF and how well it is received by the Roblox Community. However, judging from the popularity of the game itself and the massive amount of Roblox players, we think that Monday Night Movin is going to be a really worthy addition to the Roblox community.
Monday Night Movin- Release Date
As of now, there is no official statement on the release date of Monday Night Moving. It is currently under development but we expect it to be released somewhere in the second half of 2021.