F1 has always been one of the fan-favourite games and there will be very few who will have something bad to say about the game. It has always delivered what the players need and has always lived up to their expectations.
There have been three more races since EA Sport's last driver rating update, but those mere three races have changed a lot on the rating table. Those races were full of fast-paced action and featured flurries of wet weather and some high voltage controversies. We have seen some good changes in the rating table, and some bad ones as well!
The game F1 2021, developed by Codemasters and published by EA Sports, was released back on 16th July 2021 after a series of long delays. Since then, the game has got a lot of updates which include the in-game driver ratings as well. The driver ratings are now calculated based on Experience, Awareness, Pace and Racecraft, which then total to give them the Overall Rating.
Here are some notable changes which occurred in the driver ratings chart –
The three races that happened after the last driver rating update gave us full-paced action and jaw-dropping results. The triple-header had a lot to offer as well. So what has happened to the ratings of both our champions? Where do Hamilton and Verstappen stand right now? Here is your answer. Max Verstappen's Racecraft has increased by one. But the incident which happened at the Italian Grand Prix, where he received a subsequent penalty from the stewards, has proven to be costly for him. His awareness has dropped by nine points and it has impacted his Overall rating. It has dropped by two points.
Since Hamilton's performance has put no changes on his points, he is currently in the lead with 94 points. And Verstappen, thanks to his penalties, is on the second spot with 93 points.
Red Bull's Sergio Perez has experienced a drop in his rankings. He had a great performance in the Dutch Grand Prix, finishing on eighth place after coming from the pit lane. But his pace and finishing position has taken his ratings down. His pace has dropped by one and racecraft by two.
Alpine's Esteban Ocon has had mixed results in the three races. The Frenchman out-qualified his teammate in the Belgian Grand Prix and secured an impressive eighth position in the Dutch Grand Prix. This gifted him a three-point increase in his pace and a one-point increase in his racecraft. But the incident involving him and Sebastian Vettel has seen his Awareness drop by 14 points (yeah, true!) and his Overall Ratings by two points (86 overall points!)
Rookie Mick Schumacher has had an impressive first season in Formula One. This ensured that his Experience and Awareness increase by one point each. His Racecraft and Pace went up by two points each. This increased his Overall Ratings by two, resulting in an impressive Overall Rating of 79, his joint highest increase.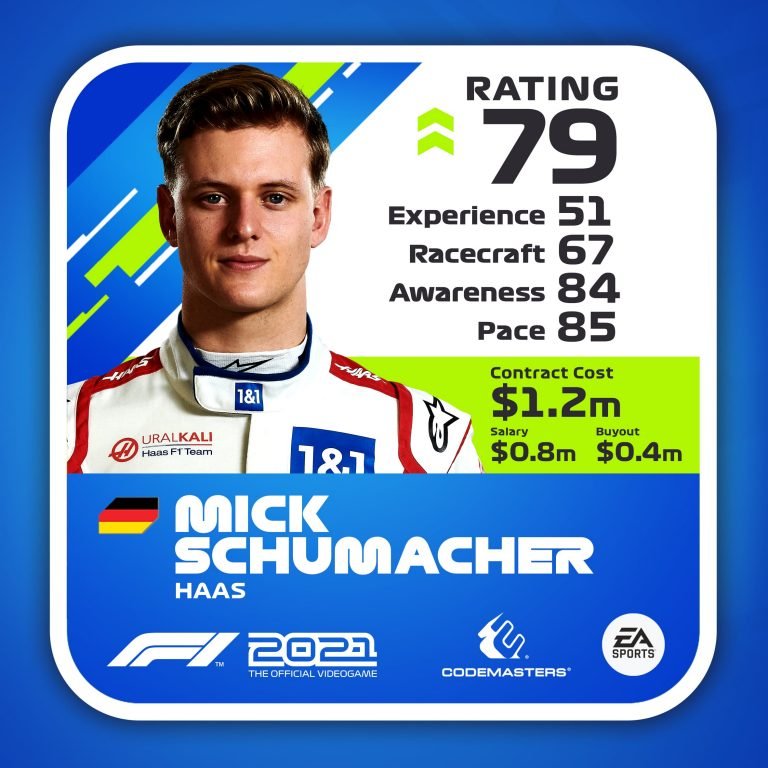 Valtteri Bottas was one of those drivers whose ratings had dropped last time. But this season he performed pretty well with two podium places – with one having started at the back of the grid – and his Racecraft and Pace increased by one point each. This has boosted his Overall Rating by one point.
There are several other ups and downs in the driver rating table which you can visit on the official EA Sports website.