Escape From Tarkov is a massive online first person shooter title. Players descend in Tarkov and participate in online raids and kill other players and NPCs to collect items, craft supplies and build their arsenal in order to escape.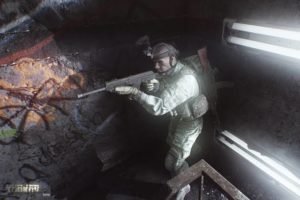 Last month on May 28, 2020 Battlestate Games had a server wipe which is essentially a reset following the 12.6 update. The update was massive in itself and brought changes to the marketing system and audio. They also introduced features such as the ability to lean while prone and more. Since then several tweaks were made with bug fixes.
A few days ago, on June 5 lead developer Nikita introduced new items that players would now be able to craft. These included craftable bandages, armour, vests, backpacks, ammunition, medical supplies and other items. Along with that, there were changes made to the looting spawn rate. Players welcomed this new additions and the update was well received on twitter.
Yesterday, Battlestate Games introduced some new crafting options in the hideout. The announcement was made via the Escape From Tarkov the twitter handle and the new features will be arriving soon.
The hideout is essentially a safe house where players can build some cash or craft rate items via the loot found in raids. With more options to choose from while crafting, players are sure to be more engaged with the narrative of the game.
These new options include new ammunition, medical supplies and even some more backpacks for all your utility. While the game is still in beta, Battlestate Games is getting closer to the final release by bringing more necessary updates to the game. Looting and stacking is all Escape From Tarkov is about hence this new hideout update is a welcome addition.
Pay us a visit after every big Escape From Tarkov update and check out our previous coverages too!