Battlestate Games has announced the Escape From Tarkov Patch 0.12.6.7456 notes alongside 3 to 5 hours of server downtime. The patch notes will go live tomorrow at 11.00 Moscow time. It will bring full characters to wipe with saved weapon presets and examined items in the handbook remain unaffected.
Escape From Tarkov Patch 0.12.6.7456 Notes
General
New Gears, character tops, and bottoms have been added to the game. If a suspicious activity happens in the flea market or in the trade, a captcha will appear from now on. Also, players will now able to lean while prone and will see improved images via thermal imaging devices.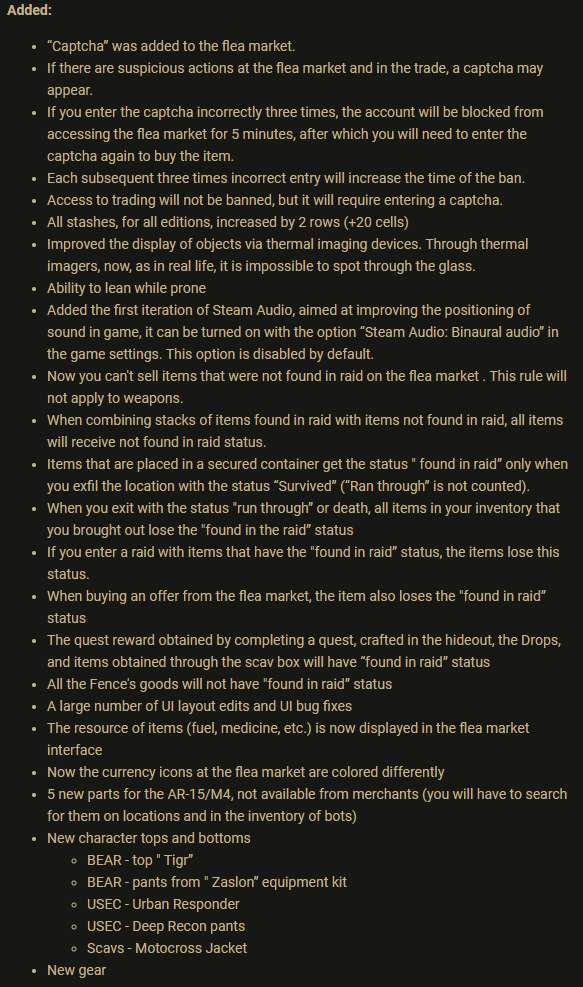 Optimizations and Improvements
Battlestate has added various CPU, Soundcasing, muzzle flashes optimizations along with the creation of decals.
Bugs like "when a player falls into the bot's legs, the bot can't hit him", "Gluhar did not react to shots and the death of his guards, "The Sturman's guards will no longer rush between points while in peaceful behavior" and more are fixed in the updates.
Changed
Escape From Tarkov Patch 0.12.6.7456 Notes has removed the audio from notification regarding the completion of crafting. Now, players can't throw a grenade while sprinting and for the "Survived" status they will need to stay in the raid for at least 10 minutes or get 600XP gain.
Various changes in characteristics of items,  equipment of bots and the player scans, and oot spawn points locations have been made in Escape From Tarkov Patch 0.12.6.7456 Notes.