Google has dozens of applications to function the basics of a smartphone. From maps to messages to store, Google has them all covered up under its label. Google apps are the basics you find on every smartphone as third-party apps. Google Phone is also one of those apps about which this article is. Strangely, Google Phone is not available for all devices.
Google Phone was only able to be downloaded as a modified version in the form of the apk file or Magisk module. But it seems like that has changed. Check out all the details and the link too given below.
Google Phone Details-
Google Phone is an app that works as the default dialer on smartphones. The app is only available pre-installed in the following phones- Google Pixel phones, Android One smartphones and latest Xiaomi mobiles released in Europe. For the rest of the devices, Google Phone wasn't even available as a third-party app. But now your smartphone might just be compatible to run the Google Phone app.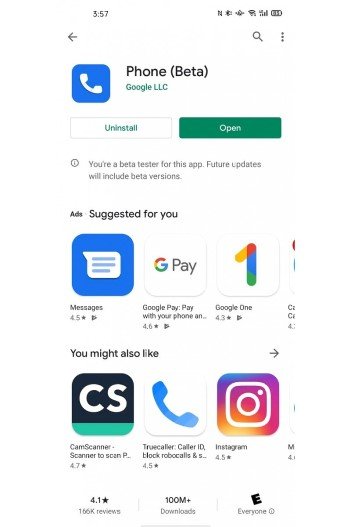 Initially, when you download the app (link is given below), you might receive a prompt that not all features might be available or function properly. But when you avail of all permission (like storage permissions, etc.) the app seems to function completely all right. Other than Call Screen, which is exclusively for Pixel phones, features like Assisted dialing, Caller ID & spam, and Nearby places seem to be available too.
Presently, the app compatibility has been confirmed for the following devices from various sources- ASUS ZenFone 6, Oppo Find X2 Pro, and LG V60 ThinQ. This can be a hint that Google is planning to extend its support for more Android devices. For beforehand clarification, you can check if your smartphone holds com.google.android.dialer.support shared library.
Download Google Phone App:
The app is official and on Play Store. Click the link below and download just how you do any other apps.
---
---
Reach out to us via the comments section if you face any trouble installing the app. Also, comment down the name of your device and let know if Google Phone is supported on your device or not.
Rest assured, stay tuned for related content and more updates. Also, share this article with all those you think might love this app and find it useful!