Red Hook Studio's next game is finally here. A sequel to 2016's Darkest Dungeon, the game is titled Darkest Dungeon 2. Ever since the first game was released, the series has received wide praise for both its story and gameplay. Darkest Dungeon 2 follows the same formula as the first one, where you take four party members and venture into tough and nightmarish expeditions. The sequel doesn't shy away from being as hard as the previous game and is considered a great follow-up to it. Red Hook had DD 2 in Early Access for quite a while as they wanted to iron out all the gameplay mechanics and other trivial stuff. The game got its final release on May 8th, 2023, and the overall consensus is very positive from both critics and fans. However, it does suffer from some annoying issues. Many players have complained about encountering black screens when launching the game.
Darkest Dungeon 2 isn't the only game to suffer from this type of issue. In fact, almost all video games suffer from one or more issues on a daily basis. Moreover, being such a new release, Darkest Dungeon 2 is bound to have such problems. If you go to the Steam discussion page for the game, you will find that there are a lot of reports about the black screen issue. So, is it a fixable error? Let's find out!!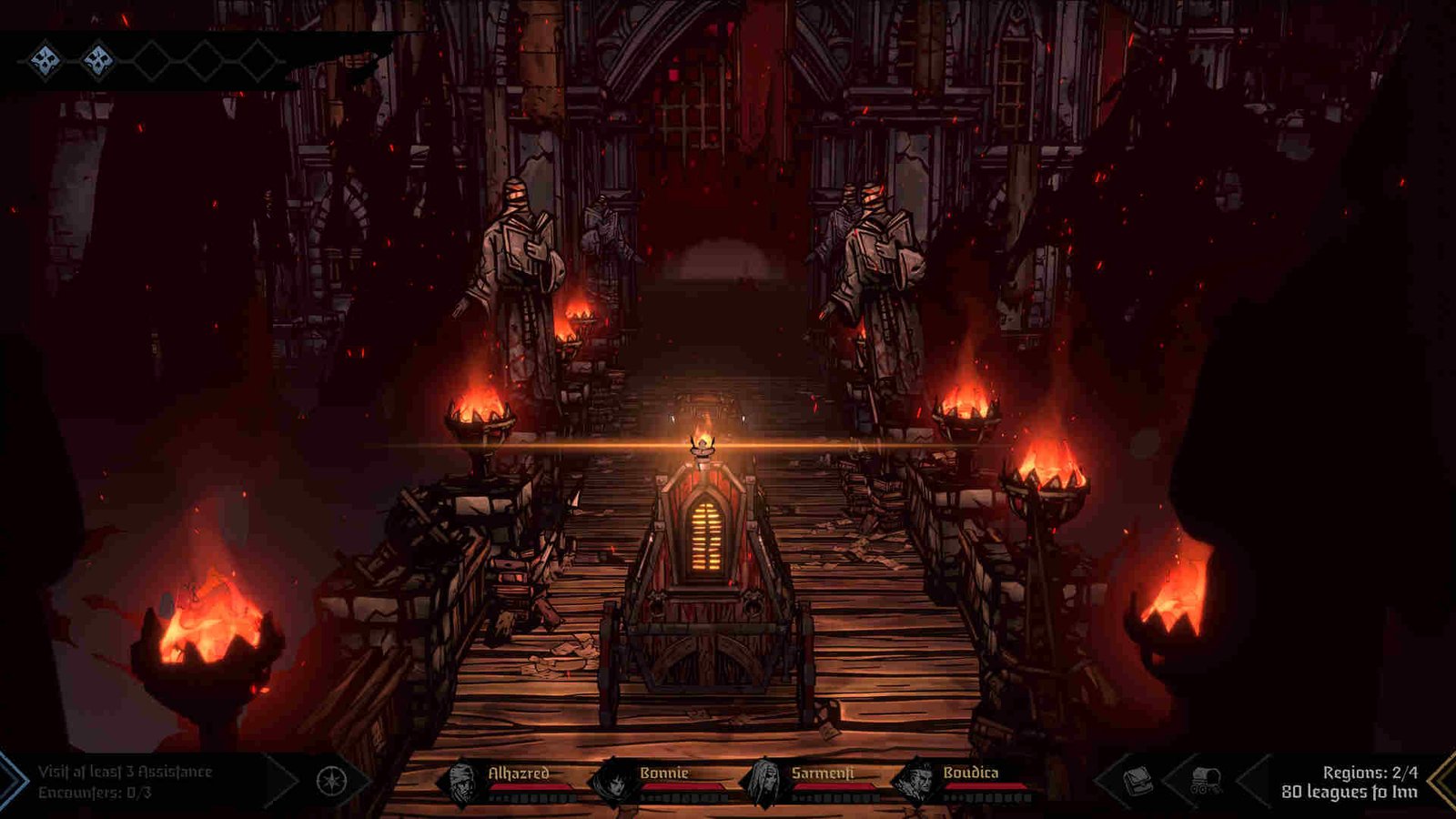 Darkest Dungeon 2 Black Screen Issue: Is there any fix yet
There can be many causes behind this black screen issue. In some cases, it could be due to outdated graphics drivers, while others might be facing this because of compatibility problems. Nonetheless, we recommend you follow the following methods and see if any one of them helps you out.
Update Graphics Drivers 
First and foremost, you need to update your graphic drivers if you haven't already. Keeping your drivers updated allows your GPU to run optimally. You can go to your GPU manufacturer's official website to get the latest drivers available.
Nvidia– Click here
Amd– Click here
Switch to the "Coming in Hot" beta branch 
Payers can also try switching to the "Coming in Hot" beta branch of the game on Steam. Many in the community have tried this method, and have found it effective in solving the black screen issue. To do this, open Steam > Library > Darkest Dungeon 2. Right-click on the game and select Properties. Go to the "Betas" tab and select "Coming in Hot".
Verify game files  
As per a player report, switching to the Beta branch, and then verifying the game files fixed the issue for them. So, if the black screen issue isn't fixed after switching to the Beta branch, you need to verify the game files. To do so, head to your Steam library, and then right-click on DD 2. Now, select Properties, and then click on the Local Files tab. After this, click on the Verify Integrity of Game files option. Once the scan is complete, launch the game, and check if the issue persists.
Multi-monitor setup 
If you are using a multi-monitor setup, consider disconnecting all secondary monitors, and then launching the game. The black screen issue may occur if the game fails to recognize the primary monitor to provide output to.
Download and install the Windows Media Feature Pack 
If you don't have Windows Media Feature Pack installed by default, then we recommend you download and install it. Remember to reboot your PC once you install it.
Display Steam Overlay and any other third-party overlay 
Another major cause behind this issue can be overlay applications. Players have found that disabling Steam Overlay fixed this black screen in the game. To disable it, open Steam > Library > Darkest Dungeon 2. Right-click on it and select Properties. Next, go to the General tab, and there you will find the " Enable the Steam Overlay while in-game" sub-option. Uncheck the checkbox next to the sub-option, and you are done. We also recommend you disable other third-party overlay applications like MSI Afterburner and Discord.
Give the game admin privileges 
Players can also give Darkest Dungeon 2 admin privileges to run. Lots of games require admin rights these days, and you can solve some issues by doing this. Just right-click on the .exe file of the game by heading to its installation directory, and selecting Properties > Compatibility. At the bottom, you will see the "Run this program as an administrator" option with a checkbox near it. Check it, click on Apply, and OK.
Although these aren't official fixes for the problem, we certainly hope that one of these methods helps you fix the black screen issue. You can check out DigiStatement for guides on other games too.
Also, read: Darkest Dungeon 2 Error Loading Save File Issue: Is there any fix yet