Season 4 of Call of Duty : Modern Warfare/Warzone came out with an explosive start earlier this month. It brought many new additions to the game and many more are still to come. With Season 4 still in progress, leaks of Season 5 have already made an appearance. We have gathered all the news related to the upcoming update to help you plan your way through your journey.
Before we get to it, we would like to establish this beforehand that all of these are leaks. So far no official source has confirmed it so all the information provided below should be taken with a pinch of salt.
Season 5 Release Date
Season 5 is expected to start shortly after Season 4 concludes. According to the Battle Pass expiring timer, the next season should start on 4th August 2020 at 10am PDT. This is however, subject to change given the current global pandemic situation.
It is common trend that all Call of Duty major updates drop by on Wednesday. Therefore, we might see minor shuffling of dates of fit this pattern. As nothing is set in stone, we are keeping a close tab on all official sources.
New Maps & Guns
Almost every season we see new maps added to Modern Warfare. Some are new while some are returning maps from previous entries. Recently COD Mobile got teased with the return of a fan favourite Modern Warfare 2 map, High Rise. Rumours suggest that it may make its way to Call of Duty : Modern Warfare/Warzone as well.
Developers have already confirmed that around 60 maps are in development for the game. So it is likely that even after scratching some of them off the list, many would still be added to the game. Here are some of the maps yet to be seen:
Borderline
Takedown
Village
Offshore
Faridah
Emporium
Layover
Assault
Harbour
Breakneck
Oil Rig
Offshore
Seine Don
Scaries
Harbor
Fallout
Military Base 2
Firing Range
Garden
Ravine
Oasis
Malyshev
Hairat
In addition to it, we might also see the following gun fight maps :
Fork (Gunfight)
Hook (Gunfight)
Exclusion (Gunfight)
Boneyard (Gunfight)
Cornfield (Gunfight)
Theatre (Gunfight)
Townhouse (Gunfight)
Train (Gunfight)
Walco 2 (Gunfight)
Drainage (Gunfight)
King PM (Gunfight)
Exclusion (Gunfight)
Layover (Gunfight)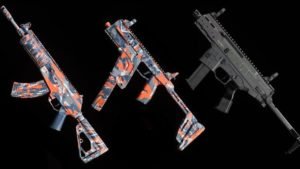 As far as weapons go, data miners have leaked gameplay footage of unreleased weapons such as ACP9, HKG28 and XM109. Click here to see the gameplay video. Furthermore, AN-94 has been found in the game files and Season 4's release has provided more evidence. This futuristic weapon might drop in the upcoming Season 5.
Warzone Season 5
Infinity Ward's Narrative Lead, Taylor Kurosaki and Raven Soft's Director Amos Hodge have confirmed plenty of new content coming to Warzone. Following are all the confirmed features along with some speculated ones :
The developers have stated that they intend to change and optimize ground loot frequently. This will be done to force players out of their comfort zone and push them towards evolving to use different approach to the game.
We might get to see new items for loadouts and some loot only found in the BR. New field modes and upgrade are also to come.
Keen eyed players must have already noticed the changes the map has gone through over the past few seasons. In season 3 the dam in the map was seen to be overflowing and releasing water. Come season 4, the dam got frozen and no water is seen on the map.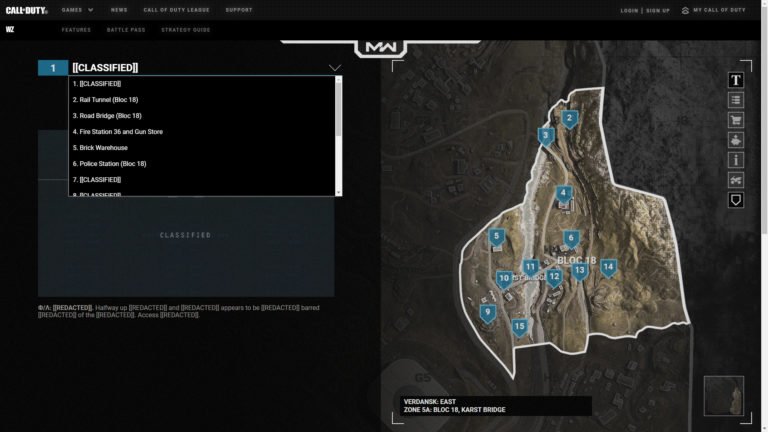 In addition to it, suspicious howling noises are also heard. This seems to be pointing towards something hidden beyond superficial appearance. Fans have also noticed few vaulted doors and interactive computer terminals and bunkers. They claim these to be Easter Eggs which foreshadow future events.
Moreover, the developers have already confirmed that they look forward towards a narrative similar to what we have seen in Fortnite. Thus we suggest keeping an eye out for subtle changes to the map.
Reddit user u/StreetfighterXD firmly believes that a new map is being added to Warzone and it will be called Urzikstan. Following are all the reasons listed by them.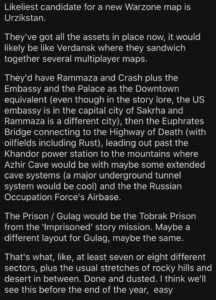 This is supported by the fact that in the opening cinematic of Season 4, we got a glimpse of Urzikstan on the Warzone Map. Could this be an Easter Egg pointing towards a new map addition?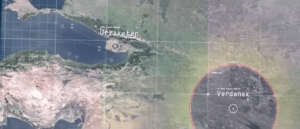 Many people have also reported Call of Duty's signature game mode "Zombies" reference in Verdansk. They claim that there are many references scattered throughout the map pointing towards "Zombies in Spaceland". The latter was the Zombie mode from Call of Duty : Infinite Warfare.
Following is a list of references seen in game :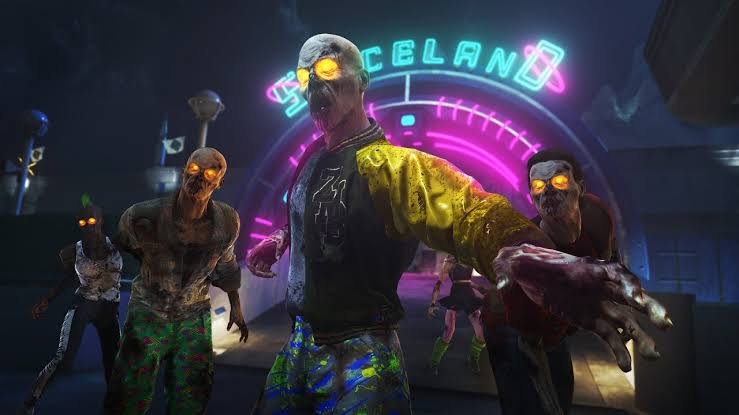 Spaceland docs in Verdansk
Zombie round ending sounds
Howling near Dm and Prison
Screaming at Prison & Dam
Teddy bears throughout Verdansk
Zombie rat in Warzone
115 on RCXD
The "gas"
Season 5 Battle Pass
The Season 5 Battle Pass will follow the similar design as previous seasons. There will be 100 tiers in the Battle Pass each with its own reward. Some of these rewards will be free with the free pass. Whereas, the paid pass which costs 1000 CoD points will unlock all rewards to be earned.
Additional of 20 tiers can be skipped with 4200 CoD points. If you manage to grind your way through the current Battle Pass, you will earn enough points to buy the Season 5 pass for free.
Therefore, these are all the leaks related to the upcoming Season 5 of Call of Duty : Modern Warfare/Warzone. Click here to see leaks for Call of Duty Mobile upcoming season.