Sometimes it is best to see the drama unfold without really being involved. For an enthusiast waiting to get his hands on the new GeForce RTX 3000 series, it really is getting annoying out there. Buyers are unsure about where to place offers first. Most online retailers seem to be dealing with what one calls, modern day online retail issues. Scalpers have frequently employed bots to empty online stocks within seconds. Both the manufacturer and customer are in a lose-lose situation, quite evidently. To make the situation worse, online retailers where possible have asserted their authority. Aussie UMart was seen selling the MSI GAMING TRIO RTX 3080 card at a fake (overpriced) RRP. MSI was bound and couldn't really interfere directly due to the Australian law. Well, all issues put aside, for the hot property that Ampere GPUs are no one's stopping them from selling.
Custom built RTX 3080s "Coming Soon" on Best Buy US
Most of these cards listed belong either to EVGA or GIGABYTE. The former has had a hard start to life with its Ampere GeForce RTX 3090 and RTX 3080. The RTX 3080 went for restocking just two days ago and would be back only by next week. The Reddit community is annoyed at how these online retailers have been inviting bots to buy stocks. This naturally results in high resale prices on eBay. Moving on, here's the real deal. All the cards listed at Best Buy pack 10GB GDDR6X memory. The most expensive of the lot is a Black GIGABYTE RTX 3080 at $849.99.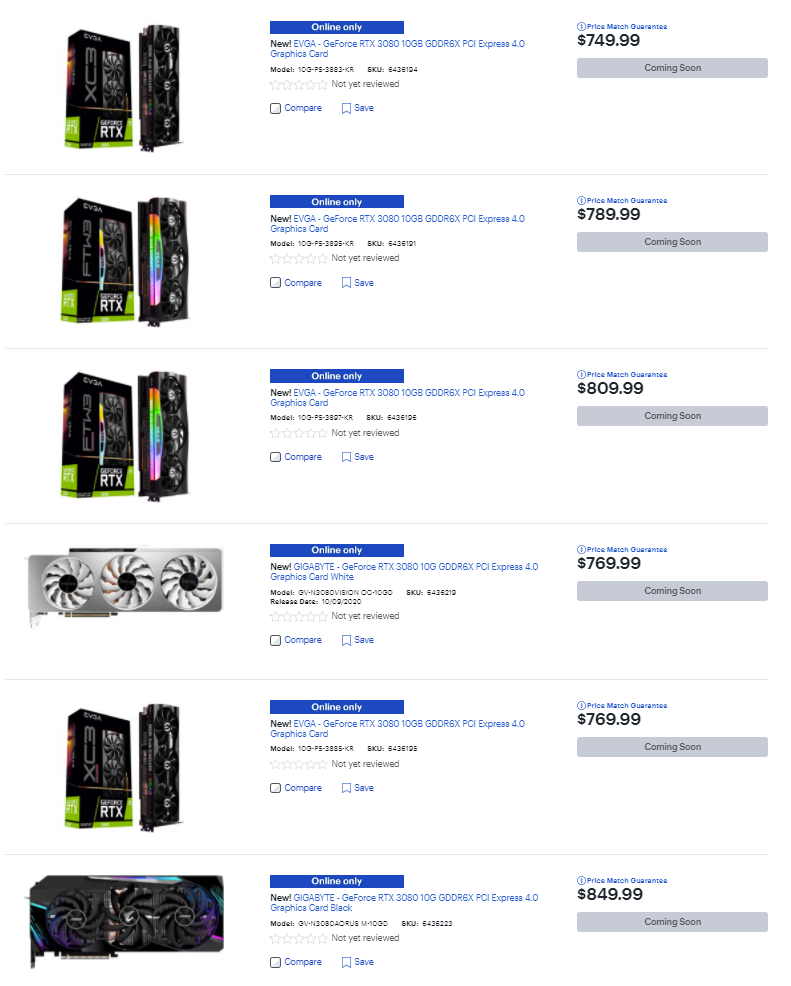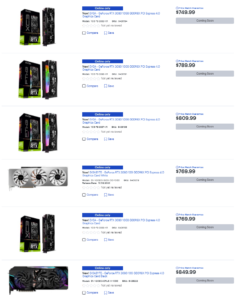 These brands should take lessons from NVIDIA and place personal protection norms and hand review orders in this crisis time. GIGABYTE and Newegg combined for the new stock due to arrive. The former will take responsibility to review orders while they are live. This was on 2nd October specific to the GIGABYTE RTX 3080 AORUS Master cards. Will Best Buy US leave its customers annoyed while falling victim to bot attacks? We find out soon.