Are you eyeing the new Ampere generation of GPUs inspired from NVIDIA? Have you run errands on the web, from one retail website to another looking for the best deal? Are your friends buying and suggesting you deals for the variou custom builts of GeForce RTX 3000s? If the answer to those is even remotely assertive, then it is our duty to caution you, well in advance. NVIDIA had intimated customers of fraud being conducted using bots online. EVGA had shown concerns regarding its custom, EVGA GeForce RTX 3080 on Twitter. The American manufacturer has started hand reviewing any orders that come its way. Latest news on similar tangents happens to come from Taiwanese manufacturer MSI stand. 
Overpricing Issue at UMart and other Retail Alternatives for MSI GeForce RTX 3080
The team at MSI Australia and New Zealand responded diligently to a customer's query. The complaint was regarding the MSI GeForce RTX 3080 GAMING TRIO set being sold under an overpriced tag. MSI confirmed that their GAMING X TRIO shouldn't cost more than $1469AU. On the Aussie website however, it was priced at $1699AU. To most customer's annoyance, the offer price was still not to the benefit of buyers at $1598AU. Unfortunately, MSI's hands are tied as the Taiwan brand has no authority to control these sales under the Australian Law. The company suggests to look for alternate retailers that demand not more than $1469 RRP.  The VENTUS 3X model from MSI is priced at RRP $1379AU.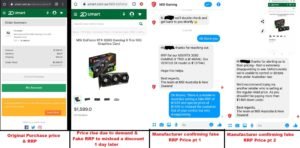 Other alternatives that you should be checking include the likes of Amazon, Mwave, PCCG etc. Meanwhile, some users on Reddit pointed out that Computer Alliance have also unfairly priced the RTX 3080. Customers from all around the globe have urged NVIDIA and other third-party manufacturers to check into the matter. A Reply from UMart was however posted later on Reddit. According to them they had readjusted the price after observing their competitors from Queensland. This happened post the sale of their first batch of RTX 3080s.