Assassin's Creed Mirage, the latest installment in the iconic Assassin's Creed franchise, has taken a different approach compared to its recent predecessors like Valhalla and Odyssey. This change in gameplay style might prompt players to consider adjusting their difficulty settings to suit their preferences and playstyle. So, in this article, we'll see why players might want to tweak the game's difficulty settings and provide a step-by-step guide on how to do it.
For players who are new to the Assassin's Creed universe, starting with a lower difficulty setting can be beneficial. This makes it easier for newcomers to navigate the game world and learn the mechanics without being overwhelmed by challenging foes. Even seasoned Assassin's Creed veterans who have mastered games like Valhalla and Odyssey may find themselves needing to adjust to Mirage's slightly different gameplay style. Again, lowering the difficulty temporarily can help ease the transition and provide a smoother experience.
Assassin's Creed (AC) Mirage: How to change Difficulty Settings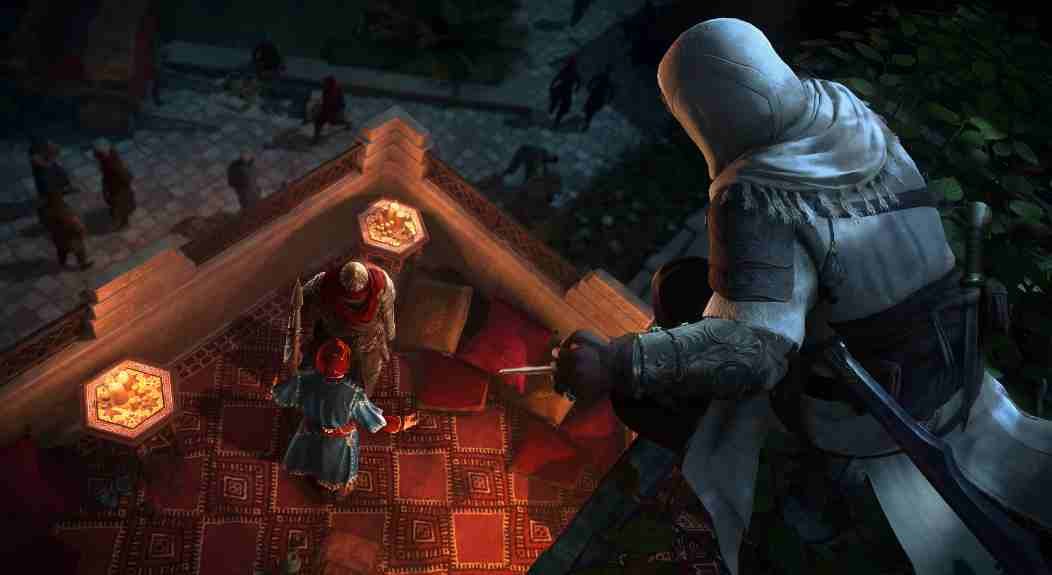 Changing the difficulty settings in the game is a straightforward process. You can change the difficulty level at any point in your in-game journey. To do so, follow these steps:
Access the Main Menu: Start by launching AC Mirage and reaching the main menu.
Navigate to Options: From the main menu, select the "Options" menu.
Access Gameplay tab: Within the "Options" menu, locate and select the "Gameplay" tab.
Adjust Difficulty: In the "Gameplay" tab, you will find the "Difficulty" setting. Click on it to reveal the available difficulty options.
Difficulty Levels in Assassin's Creed Mirage
Assassin's Creed Mirage offers three distinct difficulty levels, each catering to different player preferences and skill levels:
Easy Difficulty: In the "Easy" difficulty setting, enemy detection speed and searching time are significantly decreased. This means that enemies will take longer to spot you and will have a harder time searching for your character when you're in hiding. Pickpocketing becomes easier, allowing you to acquire items and resources more smoothly. Enemies deal less damage and have lower resistance levels.
Normal Difficulty: "Normal" difficulty is considered the default setting. It offers a balanced experience without significant advantages or disadvantages. Enemy detection and pickpocketing mechanics remain at standard levels. You'll face a reasonable level of challenge without excessive handholding or difficulty spikes. Enemies maintain a standard level of damage and resistance.
Hard Difficulty: This difficulty level amps up the challenge significantly by making enemy detection speed and searching time faster so enemies can spot you more swiftly, requiring enhanced stealth skills. Pickpocketing becomes more challenging, demanding precision and timing. Enemies start to deal higher damage and possess greater resistance.
Which Difficulty Settings to Choose?
Easy: Ideal for newcomers and those looking for a less challenging experience.
Normal: This is the recommended difficulty level for players who want a balanced gaming experience. It allows you to enjoy the game as intended by the developers.
Hard: Geared towards experienced players seeking a greater challenge. If you are a seasoned veteran, this is the difficulty level for you.
With all the information provided above, you should now be able to change the difficulty settings in AC Mirage in an instant and also be aware of what to expect from the game at various difficulty levels. Anyway, that is all the information we have on this topic. For more guides like this one on all the latest games, stay tuned to DigiStatement. Read more: Assassin's Creed (AC) Mirage Crashing, Not Launching, Stuttering, FPS Drops, Black Screen Issues: Is there any fix yet