Connectivity issues in games can be frustrating for players who want to enjoy online multiplayer gameplay. WWE 2K23 is the recently released installment in the popular wrestling video game series. Like many other games, 2K23 is not immune to connectivity issues. If you are also unable to connect to online features in WWE 2K23 and are facing connectivity issues on your PC, then you are at the right place. In this guide, we will discuss some solutions to fix WWE 2K23 connectivity issue on PC. So, let's get right into it.
Fix: WWE 2K23 Connectivity Issue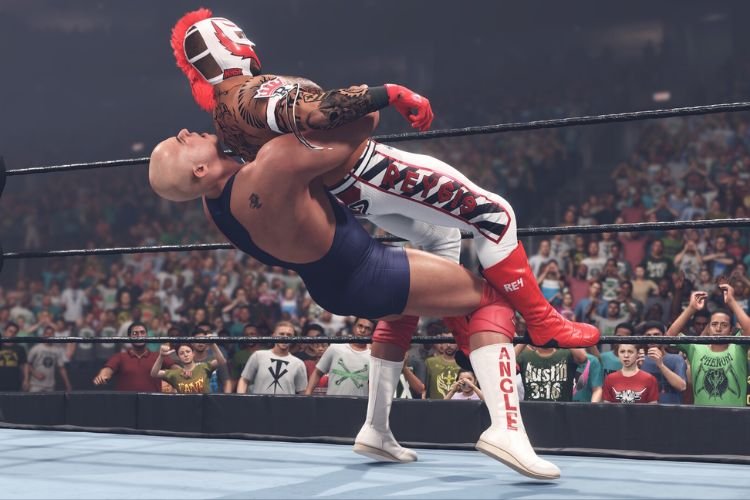 1) Restart the PC
Firstly, you must restart your system. This typically eliminates minor flaws and errors. After a restart, the chances of encountering errors are quite low.
2) Rightly set the Time, Date, and Region on your PC
Right-Click on the bottom right section of the taskbar where you see the date and time.
Select "Adjust Date and Time".
Make sure " Set Time Automatically" and "Set Time Zone Automatically" are enabled.
Click on Sync Now
Then, click on "Language and Region" and select the correct region.
3) Allow the program through Anti Virus and Firewall
Some of the game files may occasionally be blocked by your firewall or antivirus program. Therefore, when you attempt to play in multiplayer mode, this can result in connectivity issues. Thus, in order to prevent this from happening again, you must add the game to the white list. We have provided a list of the steps to accomplish this.
Windows Security
Type Settings in Windows Search Box and hit enter
Click on Update & Security / Privacy & Security
Click on Virus & threat protection and then select "Manage ransomware protection".
Now, click on the "Allow an app through the controlled folder access" option.
Click on Add an allowed app and navigate to the game installation folder to select the .exe file of the game. (Default: C:Drive/Steam/steamapps/common/WWE2K23/WWE2K23.exe )
Firewall
Type Control Panel in Windows Search Box and hit enter.
Go to Windows Defender Firewall.
Click on "Allow an app or feature through Windows Defender Firewall".
Next, click on "Change Settings" and then "Allow another app"
Browse to the game installation folder to add the .exe file of the game. By default, it is C:Drive/Steam/steamapps/common/WWE2K23/WWE2K23.exe
Add the file to the exceptions list and then click on Ok.
After performing these steps, you must shut down your PC and then try to launch the game.
4) Disable manual proxy-
Many people enjoy setting up a manual proxy server for internet browsing. However, this can obstruct your game's communication with the servers. Therefore, you might want to turn off this option in Windows Settings. Just follow these instructions to do so.
Go to Windows Settings.
Go to Network and Internet.
Click on the Proxy tab.
Now, turn off the "Use a proxy server" option.
5) Network Troubleshooter
Running the Network Troubleshooter on your PC can also eliminate some unknown bugs that might be causing the issue. Here are the steps to do so:
Launch Windows Settings
Go to System & Security or Update & Security
Click on Troubleshoot and select Other troubleshooters.
Go to the Network Adapter option and click on Run.
Close the program, and then launch the game.

6) Command Prompt Commands
Executing commands in the Command Prompt can also resolve this problem. A few commands will flush your DNS and reset your network settings. To start the Command Prompt as an Administrator, simply press the Windows key, type cmd, right-click on the first result, and select "Run as Administrator". Once it is launched, start pasting the following commands individually and hit enter after pasting each of them.
ipconfig /flushdns
ipconfig /release
ipconfig /renew
netsh winsock reset
netsh int ip reset
netsh interface ipv4 reset
netsh interface ipv6 reset
netsh interface tcp reset
7) Reset your Network
Before initiating this step, you should note that you must be having the password for your WiFi before you reset it. Launch the Windows Settings and go to the "Network and Internet" option. Click on Reset (Windows 10) or click on the Advanced Network Setting option and then click on the Network Reset option. After this, your PC will restart and then, you have to connect to your WiFi again.
8) Try another Network
If you have the liberty to switch to a different network, then you must do it and then try to connect to the game servers. You can turn on the hotspot of your Mobile for a temporary check. If the issue gets resolved by doing this, there must be some issue with your Internet Connection. So, you must contact your Internet Provider. However, if the issue still persists, you must move on to the next step.
9) Use an Ethernet cable
Using an Ethernet Cable to connect your Router to the PC can solve the stability and priority issues. If an unstable internet speed is causing this issue, this is the best way to resolve it.
10) Update Windows
Type "Check for Updates" in the Windows Search Box and hit enter. Now, if you see any pending or available updates on this Window, make sure to install it. Updating the Windows to the latest version install the patch updates for some unusual bugs or issues that can hamper your Network Usage.
11) Verify files
Problems related to connectivity might also be caused by missing or damaged game files. To continue playing the game, you can simply replace or repair these files. For that, launch the Steam Client, right-click on WWE 2K23 game, select Properties, select the Local Files tab, and click on the Verify integrity of the game files option. After doing this, the issue should be fixed.
This brings us to the end of this guide. It was everything about fixing the Network Connectivity issue of WWE 2K23. If you found this guide helpful, share it with your friends.
Related: WWE 2K23 Game Save Corruption Error: Is There Any Fix Yet?