WinSCP is a renowned SFTP client and FTP client for Windows OS. The software is used to copy to file between a local system to remote servers via  FTP, FTPS, SCP, SFTP, WebDAV or S3 file transfer protocols.
A new update with version 15.5.5 is released on October 16, 2019, with some major improvements and the addition of some new features like dark mode, compare file extensions, etc. Check out the complete list of improvements below.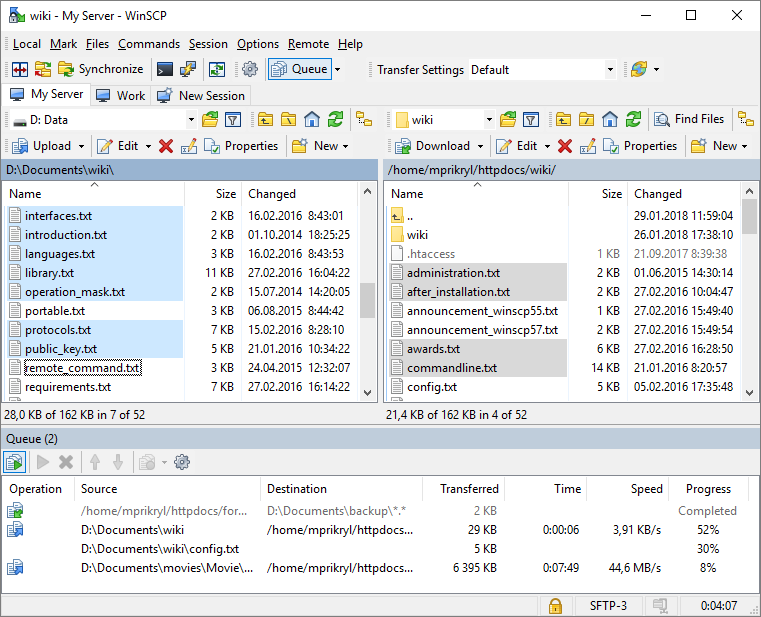 New features and improvements of WinSCP 5.15.5 include:
Files can be optionally encrypted when storing them on the SFTP server.
Local UNC paths can be browsed.
Compare File extensions.
New Dark theme.
Files can be directly copied to the clipboard.
Coloring files in file panels based on a file mask.
Improved incremental search in file panels.
Support OpenSSH AES-256-CTR-encrypted keys.
Improvements to directory synchronization.]
Along with these major changes, several other improvements and bug fix include:
Back-propagated fixes and changes from 5.16–5.16.1 releases:

Security fix from PuTTY 0.73: On Windows, other applications were able to bind to the same TCP port as a WinSCP local port forwarding. vuln-win-exclusiveaddruse.
XML parser upgraded to Expat 2.2.9.
Bug fix: Error when reopening a remote file whose local temporary copy has been deleted. 1790
Bug fix: Edited path was hidden behind a browsing button on file/directory path selection boxes. 1791
SSH private key tools (PuTTYgen and Pageant) upgraded to PuTTY 0.73.
Installer translations updated: Czech, Dutch, German, Italian, Polish, Slovak and Turkish.