Warhammer 40K: Chaos Gate is the newest turn-based strategy entry that shares many similarities to XCOM with an interesting story that further enhances the experience. To further promote the game, Complex Games stated that players will be able to get unique items by watching the streams on Twitch, this naturally infuriated the players and long time fans of the series, and voiced their complaints about it. Well, later on, devs announced that players will have access to items that'll be made available for them for free. Wondering what are the items? Continue reading the article to know more about Warhammer 40K Chaos Gate, and how to claim those items.
About Warhammer 40K: Chaos Gate details.
Many games offer free in-game items for Twitch Drops like Lost Ark and it has worked out well so far, however in the case of Warhammer 40K Chaos Gate, fans were particularly unhappy about it and stated their issues in Steam reviews, and devs noticed it quickly and posted in the community that a free update will reward players with a free item in the game.
The Warhammer skull showcase announcement revealed a lot of announcements for Warhammer games like Warpforge, Boltgun, Rogue Trader, and a little bit of Space Marines 2.
Gameplay
Warhammer 40K: Chaos Gates Daemonhunters improve the tabletop experience from the original 1998 release and tweaked a few things. The front foot combat feels nice and combined with unique strategies makes you feel satisfied. Those who are new to strategy games might encounter a learning curve, but it gets better the more you invest in it. Although there are a few technical issues that are still present in the game, there aren't any major ones that ruin the experience and devs keep updating the game with patches that solve a few of the bugs.
Free item in Warhammer 40K Chaos Gate:
Ever since the players voiced their complaints about the exclusive in-game items on Twitch drops, devs have been graciously offering items for players to grab as soon as possible. The main highlight of this article is what is the unique free item this time? In the developer's update, the item that fans will be able to claim is none other than The Ward Osseus which looks like a staff with a skull placed in the middle top with spikes.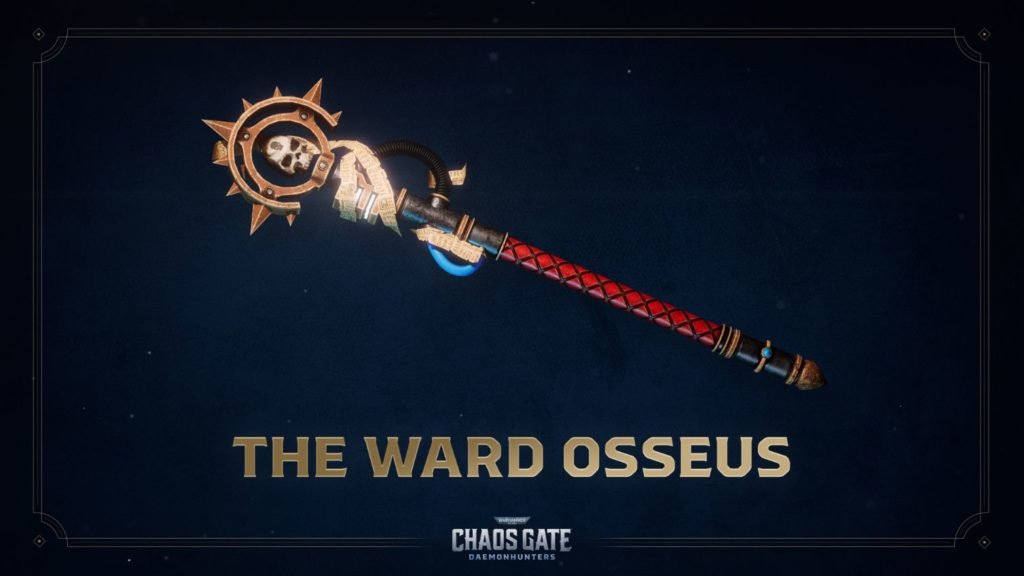 We hope this article was able to provide you with all the information you needed. For more such guides, and information on new games, make sure to visit DigiStatement.