The Chinese technology company Vivo has unveiled its most awaited new custom UI OriginOS at a special event on November 18, 2020, a day prior to the Vivo's Developer Conference. The new UI will replace the existing FunTouchOS. The new OriginOS comes with features like inbuilt Weather App,improved UI and many more. The features and exact changes in the new UI are not yet disclosed.
(Source: – Weibo)
We have some good news for the Vivo china users. With the latest reports coming from the Special Event held earlier today, we can finally say that Vivo has finally revealed the tentative date of the upgrade rollout and the eligible devices. At the special event, the company has officially confirmed that the initial rollout of the OriginOS will take place in two batches.
Have a look at the complete list and rollout dates.
First Batch Upgrade Plan
Rollout Date: – before January 31,2021
Eligible Devices: –
Vivo X50 5G                    Vivo X50 Pro
Vivo X50 Pro+                 Vivo S7
Vivo NEX 3S 5G               Vivo IQOO 5
Vivo IQOO 5 Pro              Vivo IQOO 3
Vivo IQOO Pro                 Vivo IQOO
Vivo IQOO Neo 3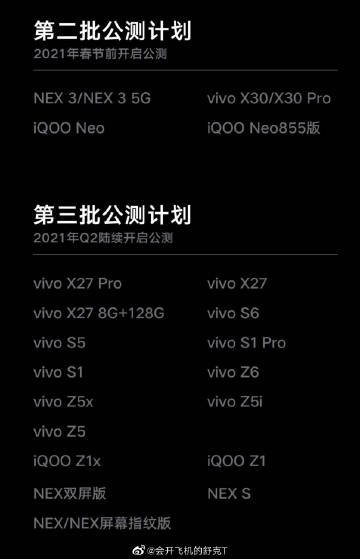 Second Batch Upgrade Plan
Rollout Date: – Before February 12,2021(Spring Festival or Chinese New Year)
Eligible Devices: –
Vivo X30 5G
Vivo X30 Pro
Vivo NEX 3
Vivo NEX 3 5G
Vivo IQOO Neo
Vivo IQOO Neo 835
And many other models
The expected devices that will receive the new OriginOS in Q2 of 2021 are : –
Vivo X27 Pro
Vivo X27
Vivo X27 8G+128G
Vivo S6
Vivo S5
Vivo S1 Pro
Vivo S1
Vivo Z6
Vivo Z5x
 Vivo Z5i
Vivo Z5
Vivo IQOO Z1x
Vivo IQOO Z1
Vivo NEX
Vivo NEX S
It is surprising for the Vivo X60 users as the company hasn't mentioned anything about it. For those who don't know, Vivo X60 was rumoured to be first device to receive the new OriginOS but It seems that the company has changed their plans.