Updated – This post has been updated on November 19, 2020. You can find the official schedule of Vivo Origin OS at the updated part. The original post from November 18, 2020 follows below.
---
When Vivo addressed the Developer Conference 2020, officials dropped a huge piece of news for Vivo fans and users. We all know that Vivo smartphones use FuntouchOS, a custom skin based on the Android operating system. But for over a year, developers have been working on next-gen custom software for smartphone users. OriginOS- the perfect replacement of FuntouchOS that Vivo has been working on with great efforts!
Finally, OriginOS is officially announced as of today, November 18, 2020. But what's better is the Vivo Developer Conference 2020 is all set to take place tomorrow- so here's the better part of the big reveal-
On November 19, 2020, Vivo will unveil the official and final list of OriginOS supported devices and the release timeline (schedule). This fantastic news for fans was announced via Weibo-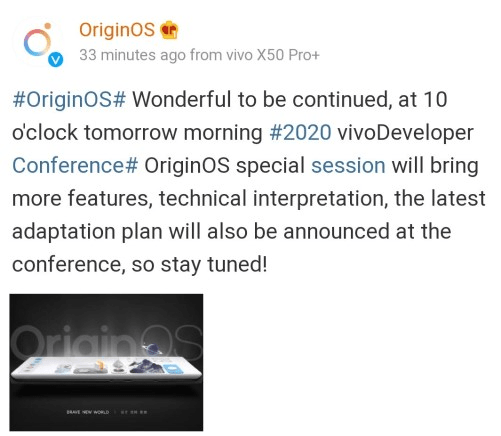 From release plans to release dates, tomorrow is a huge day for not just people who are looking to buy a Vivo device, but also existing users who are going to have their OS replaced with a brand-new first-gen skin, OriginOS.
Official Update Schedule  (Updated on November 19)
The first batch of upgrade plans (before January 31, 2021): X50, NEX 3S, iQOO 5, X50 Pro, iQOO 5 Pro, iQOO3, iOOQ, Vivo S7, iQOO Pro, iQOO Neo 3, Nex 3/Nex 3 5G, Vivo X30/X30 Pro, iQOO Neo, iQOO Neo 855.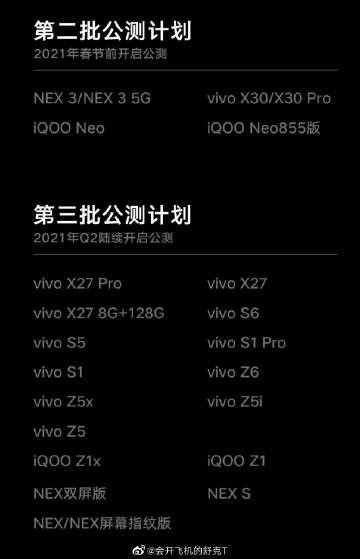 The second batch of upgrade plans (before Spring Festival ): X30, NEX 3, Nex 3 5G, X30 Pro, iQOO Neo 855.
Q2 2021
Vivo X27 Pro
Vivo X27
Vivo S5
Vivo S1
Vivo Z5x
Vivo Z5
iQOO Z1x
iQOO Z1
Vivo S1 Pro
Vivo S6
Vivo Z6
Vivo Z5i
Nex
Other Nex model
Nex S
Above all, the upcoming mid-range smartphone Vivo X60 is expected to come with OriginOS out-of-the-box, likely the first smartphone to pack this UI integrated.
It has been leaked that the OriginOS will focus more on bringing changes related to animations, icons, always-on display, and more! But above all, OriginOS will be a much cleaner UI with a minimalist design- that's the key to win fans!
We post related content and exciting updates every day, so stay tuned! Also, share this articles with all those who might find this news helpful!