Discover the characters of The Witcher 3, and the story of one of the most anticipated games of the year. The Witcher 3: Wild Hunt, developed by CD Projekt RED, stars the witcher Geralt of Rivia. The rest of the cast includes characters already known from previous editions but also some that we had not seen, some names may speak to you, such as Yennefer, Jaskier, Eskel, Lambert, Triss, Vesemir. But the presence of all these characters has not been confirmed by the firm; we therefore assumed to find them for some. You'll find descriptions in this article, but beware of spoils!
The Witcher 3: Synopsis
The Northern Kingdoms are in distress, weakened by the battles against the much more powerful Nilfgaard. Along with the lack of kings, a new, far more dangerous threat has arisen: the Wild Hunt, made up of terrifying specters riding skeletal steeds, wreaking havoc and kidnapping young children in their path. No one knows how to defeat them, or what their goal is. However, they seem to be particularly resentful of Geralt of Rivia, and in order to reach him, they are ready to play on the feelings of the White Wolf by attacking his relatives.
Geralt has recovered from his amnesia, and he sets out to find the people he loves to protect them, no matter the cost.
The Witcher 3: The characters'
Geralt of Rivia, also named Gwynbleidd (name in ancient language meaning "white wolf" given by the Dryads), is the son of the sorceress Visenna and a warrior named Korin. He's an expert at the sword, and a witcher. With his horse Ablette (all his horses are named that way), he travels the world as a monster hired killer.
He plays the main character of The Witcher's Saga: books written by Andrzej Sapkowski, television adaptations and of course video games.
Geralt does not come from Riv, it is a name that he chose himself because it is considered practical (much more than his first choice: Geralt Roger Eric of Haute-Bellegarde, considered stupid and pretentious by Master Vesemir). Our hero even went so far as to take a Rivian accent to appear more authentic.
In this third installment of The Witcher, Geralt has completely recovered his memory, and continues his hunt to find his beloved Yennefer and other old friends. You will play the conclusion of Geralt's adventures in an open world.
Ciri
Cirilla Fiona Elen Riannon (known by the nickname Ciri or the Lion Cub of Cintra) was born in 1251, probably during the Belleteyn celebrations. She is the princess and heiress of Cintra, daughter of Pavetta and Duny (the Hedgehog of Erlenwald) and the granddaughter of Queen Calanthe.
After the death of her parents and her grandmother, her country was ravaged by war. Geralt and Yennefer then take her under their wing, to Kaer Morhen, where she trains to become a witcher. She has a strong magical potential, thanks to her elven origins.
In The Witcher 3, Geralt is looking for him. You will find details of what happened to him, and with each item discovered, you will play him as Ciri: instead of listening to the narration of his story, you will live it!
Secondary characters
Yennefer of Vengerberg, in love with Geralt of Rivia and foster mother of Ciri, was the youngest member of the Council of Magicians. Known for her beauty, she has a quarter of elven blood. In the introductory cinematic of this third instalment of The Witcher, we discover her fleeing through battlefields, defending herself with her magical powers. Geralt, accompanied by Vesemir (his master at the Witcher School), follows her trail in the hope of finding her.
Triss merigold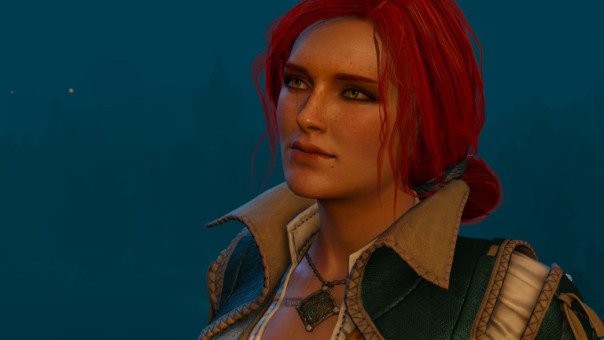 Triss Merigold has a long history linked to Geralt. In addition, she loves him but his political influence and his responsibilities often keep her away from him. She is capable of prowess in magic, but she is also allergic to it: to heal wounds she must therefore proceed normally or use potions, rather than use healing spells. In The Witcher 3, it was revealed that Geralt and Triss will reunite long after the events of the second episode, but his role has not been fully identified.
Vesemir
Vesemir is the oldest and most experienced witcher still alive. He is the only one who survived the first attack on Kaer Morhen. He is a father figure to Geralt and the other witchers. He is an excellent fencer and he has a great knowledge of monsters (knowledge that he passed on to Ciri). According to Geralt, he is older than the fortress of Kaer Morhen itself. But despite his age, he is still lively and robust.