MS Teams is an application which has saw tremendous growth in the Covid-19 pandemic. People cannot meet on a regular basis or gather together, due to the social distancing restrictions. In this time, the Teams app has helped companies, schools, colleges and more to keep their work going without any complications. The app has a 75 million daily active user base. MS Teams is available across multiple major platforms like iOS and Android, MacOS and Windows too. Teams has integration of other Microsoft apps too, like Planner.
MS Teams with its seamless integration with Planner allows the user to organize tasks by adding plans to the team channel. Check when and what plan has been assigned to you and then you can work on the plan within the Teams app or through Planner on web. You can also remove or delete your plan.
How to delete your plan on MS Team Planner? 
First, you will need to open the Plan on your Teams application.
On Computer – Plan tab is available on the the channel on which you create the plan.
On Mobile – On the Teams app, at the top left will be More Options, under that will be Taks by Planner and To Do, this is where you will find your plan.
On Web – Go to the Planner Hub and scroll down to find your plan in Recent plans or All plans. Select on the plan tile and then select Open in Microsoft Teams.
After you have opened the plan on your Teams app on any of the platforms, follow the steps below the remove or delete the plan:-
1. In the Planner tab, on the plan you want to delete select the arrow next to the name of the plan you want to delete. Select Remove.
2. In the Remove dialog box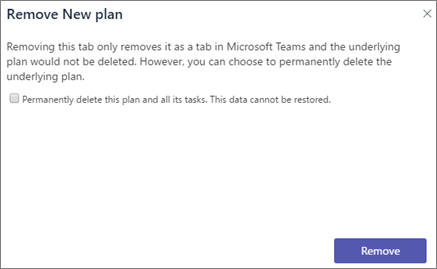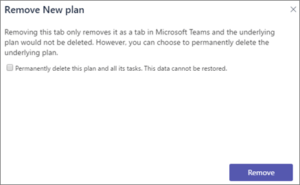 Check the box of 'Permanently delete this plan and all its tasks. This data cannot be restored' if you want permanently delete the plan.
Uncheck the box if you just want to remove the plan. This way, it won't show up in Teams but will be available in Planner for web.
3. Select Remove.
NOTE- Screenshots in this article have been used from Microsoft's support Website.