After a successful nine year long run, action adventure 2D sandbox game, Terraria enters the last stage of its praised life span. The developers of Terraria at Re-Logic games have finally announced the release of the game's long awaited update, Version 1.4. First announced in E3 2019, Version 1.4 is going to be the last major update to the game. Following you will find all the information related to it :
Today the developers of Terraria made an announcement via a tweet, carrying information regarding the last updated, called Journey's End or simply Version 1.4.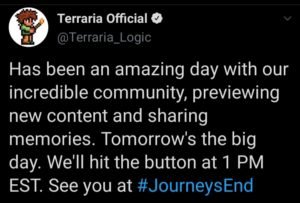 The game will receive this update today i.e, 16th May. This date is significant in the Terraria history as today marks the nine year anniversary of the game's initial release back in 2011. Journey's End will only be released on the PC version of the game for now, but Re-Logic has promised for a console and a mobile release in the near future. The exact time of the update is 22:30 IST/10:00 PDT/13:00 EDT/18:00 BST and it will be available on Steam.
Journey's End will not only add new content and aspects to the game but it will update the previously released elements as well in order to bring relevance to the older parts of the game. A new game mode will be added, called the Journey Mode which is basically an open ended official cheat menu. Additionally, more than 800 items will be added and new quality of life features such as automatically swapping out blocks for a new material will also come to the game. Players will now able to make their own Terraria golf course with the ultimate challenge : golf! The game will now feature new weather effects such as strong gusts on a windy day and players will now be able to pet dogs too! These are however only some of the features you should expect to see in game. To know more check out the official patch notes here
There will be no addition of major substantial features to the game post Version 1.4 Journey's End apart from minor bug fixes. This will provide the developers a move on from the Terraria series and plenty to room to work on new titles. You can catch the Re-Logic team on Twitch with streamer Kargoh during the "pressing of the button" and witness the landmark in the 9 year long run of Terraria.