Terraria is one of the best-selling video games in the video game industry. Released in 2011, this game revolves around exploration, building, crafting, combat, survival, and mining. Initially, the world witnessed a Windows version of this game, and then gradually, it was ported to other popular platforms as well. Being an iconic game, Terraria also offers diversified survival gameplay including different elements and items. One of the items in the game that you will require for survival is the Jungle Armor. Many players get confused about how to get this item in the game. If you also wonder how to get Jungle Armor in Terraria, then carry on reading this guide till the end.
In Terraria, Jungle Armor consists of a total of 3 equipable items, Jungle Shirt, Jungle Hat, and Jungle Pants. Each individual item boosts the gameplay of the player in some way or the other. But when these items are equipped together, they add up to make a huge boost in performance by reducing the mana consumed by the player, increasing defense, boosting magic weapons, and increasing magic critical strike chance and magic damage. On top of everything, equipping this set also creates a mesmerizing grass particle effect when moving. Now that you know enough about the Jungle Armor and its effects, let's see how to get it in the game.
How to get Jungle Armor in Terraria?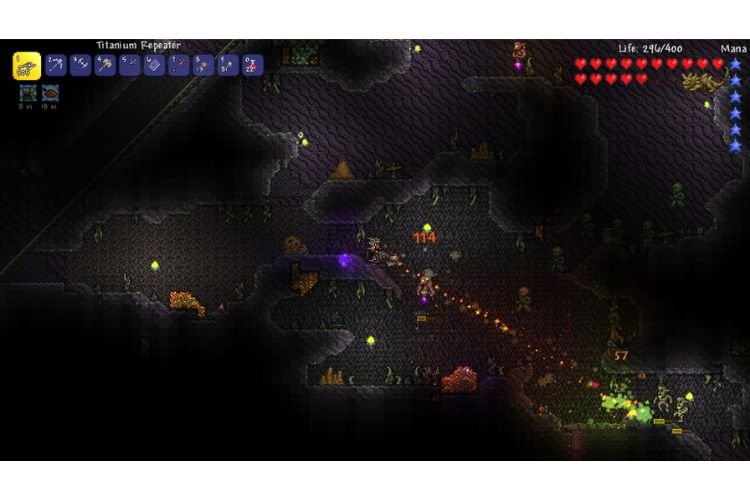 To get Jungle Armor in Terraria, you have to craft each individual item of the armor set at the Iron or Lead Anvil. For crafting each item in the set of Jungle Armor, you will require different ingredients. So, it is recommended to mark down the ingredients in your mind and collect them to craft the whole Armor in one go. Here is the list of ingredients required to craft a Jungle Shirt, Jungle Hat, and Jungle Pants to comprise Jungle Armor:
Jungle Hat: 8x Jungle Spores
Jungle Shirt: 16x Jungle Spores and 10x Stinger
Jungle Pants: 8x Jungle Spores and 2x Vine
Collectively, you have to grab 10 Stinger, 2 Vine, and 32 Jungle Spores to complete the Jungle Armor set. So, this was everything about getting Jungle Armor in Terraria. If you found this article helpful, share it with your friends.
Related: Terraria not opening in Windows 10: Fixes & Workarounds