The spurt in the development of technology grows even more with each passing day. Having such advancements also means better means of communication over time. Today, we have some of the most efficient ways of communicating with people on the other side of the planet. Now we have a bunch of social media apps, video calling software, and the stock carrier messaging service. T-Mobile is one of the most popular international carrier brands. A while ago, T-Mobile brought RCS or Rich Communication Services to devices on its network. This brought along a more interactive way of messaging with people.
It seems like T-Mobile is now bringing this feature for universal networks and improving the feature even further. For that purpose, T-Mobile has now joined hands with tech giant Google.
Android messaging upgrade for T-Mobile users:
Well, T-Mobile has had this RCS service for devices on its network for a long time now. In case you don't know, RCS or Rich Communication Services bring home better messaging capabilities. It provides users a more interactive and rich service with some useful features. Users can share high-res pics and videos, see when someone's typing a response (and know when they've been left on 'read'), and a lot more.
While T-Mobile users have been enjoying RCS for so long, there also have been some flaws in it, until now. Well, RCS services could only be used across devices on the T-Mobile network. However, this was not the case while sending messages to other universal networks. However, this is no longer the case. T-Mobile has now come up with Google to bring an enhanced RCS for T-Mobile and Metro by T-Mobile Android customers. This will ensure users get that same upgraded RCS experience when texting with Android users on other networks across the globe. Yes, RCS will now also let you communicate with people with an Android device across other networks as well. Isn't that great?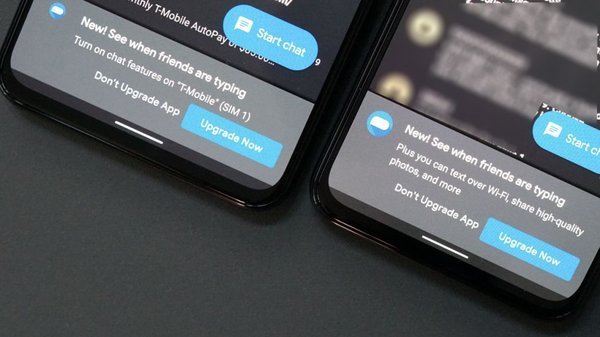 According to stats from T-Mobile, high-res photo and video sharing with RCS doubled on T-Mobile's network during the initial days of lockdown. To meet up with this demand, an upgraded version of RCS is what was needed. With that, T-Mobile has now become the first in the world to implement a full standards-based RCS Universal Profile 1.0 interconnect with Google's Messages service. In simpler words, T-Mobile users with Android devices are now capable to get RCS with Android devices on other networks, too. Carrier restrictions are no longer a problem for T-Mobile RCS now.
Enhanced RCS upgrade availability:
Today, more than 700 million people use RCS messaging in a single day. T-Mobile came up with RCS back in 2015. After almost 5 years, T-Mobile has now enhanced the experience even further by enabling cross-network messaging with Google. This is indeed a major development. No matter which carrier the other person has, all you need is to have an Android device. You will be able to text and use RCS without any issues. The experience has got a whole lot better.
T-Mobile is slowly rolling out this new upgraded RCS to every user. Some users are reporting that they have not yet seen any such changes on their T-Mobile Android devices. It seems like T-Mobile will gradually roll out the upgrade to all the devices on the network. Let's see if we get to some more such useful features coming up from T-Mobile in the coming days. It will also be interesting to see if other carriers also come up with such a thing in the near future.
Stay tuned for further updates on T-Mobile upgraded RCS and more such related content. Also, share this article with all those people that are on the T-Mobile network and use RCS messaging.