Sung Jin-Woo vs the ant king is it like Clash of the titans? Nah, it's more like SSBSS Goku vs normal Frieza or Kaido vs Luffy. Well yeah, we can pretty much see even this fight's conclusion from the beginning. Its obvious Jin Woo is the boss and ant king is the bug. Previously, we saw Jin Woo colliding with the so-called ant king.
In this chapter, however, we see him wrecking that ant. Firstly, Jin-Woo just displays his supreme overlord aura to taunt him. That alone gets the ant wary. Jin Woo fights him head-on. Seeing this others judge that he will get killed as they still think he is a "mage" type. Even the ant thought the same and punched him. Nothing happens to Sung. Meanwhile, we get the reactions of people all over the world. His mother was also watching the broadcast which got stopped for a while. The broadcasts were delayed thus the people now only got to know about Min's death and Sung-Jin Woo's entrance. Jin Ah used her phone to know that Sung had joined the battle. She was shocked.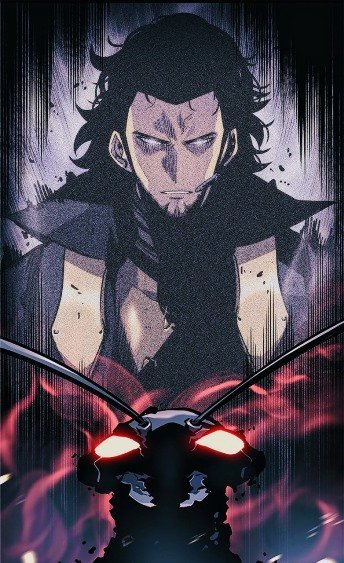 On one side we see the Associate President Matsumoto getting tensed on the death of Goto. Like oil added to the flames, the news that the Korean team was alive and another powerful hunter on par with Goto's San killer made his temper go berserk. People all over the world now knew about Sung. On the other side, Chairman Go was also awestruck and lost his composure. Sung Jin-Woo continued to attack the ant without worrying about these things. Though we expect later on this will definitely get problematic for him. Now that his identity has been exposed.
---
---
Coming to the fight, Jin-Woo broke the outer exoskeleton of the ant which baffled the monster. It has never seen anyone match its strength to this level. Not only this but Jin Woo uses Dominator's Touch(ability to move objects using his mind) too. Then we see ant getting brutally punched and the chapter ends. It is clear that Jin Woo will win the fight but what more would we see that's the question? Or is it the ant king still got some methods up his sleeve?. After all, it is the best of all the humanoid ant creatures. Will Jin Woo be able to save Cha and escape with others in time? Find out in the upcoming chapters.
Till then stay tuned. Blast your theories into the comment section. And do not forget to support the creators and translators. Only read from the official sources or buy them if available. The next issue would probably be translated by 22nd January.
---
[Update – January, 20]
We have just posted a new article with fresh and updated content. Check it out. Just visit the link mentioned below to read it now.
---
---