You might have heard that one of the artists Jang Sung-Rak from the creator team of Solo Leveling is suffering from health issues. Previously, a few months back the same issue happened. As you all can see the artists are working tirelessly into delivering us the best content. Solo leveling is also well known for accurate releases. It has got a huge fan base. And looking at the current scenario it's subreddit is loaded with all sorts of messages now.
Now coming to the story, the fight will get continued once the manga resumes. Hunter Jang is sure to deliver some serious fights after surviving his battle. So, We hope to see you back in action hunter Jang soon. A break is better than a serious injury. Take your time and come back in action with the continuation of the demolition of ant king.
Although, It is natural that some of you may get restless for the next chapter. But looking from the other side you can see how hard these guys are working. So try your best to support them if possible. Even a get well soon works at times 🙂 If possible read from official sources that way you can contribute to these artists.
---
---
Well, fans of Solo Leveling showed support to the artist in their own ways, some posted memes on the subreddit, whereas some fans posted "get well soon" messages.  Some fans also mentioned the harsh environment these artists adapt to. As a tribute to the artists, we thought we would like to mention a few comments from the Reddit. Thus, we humbly request you all to wait patiently until the artists come back in good shape.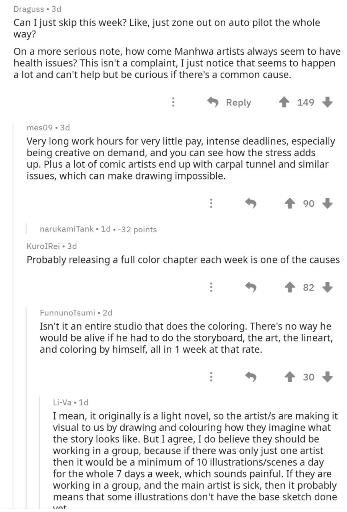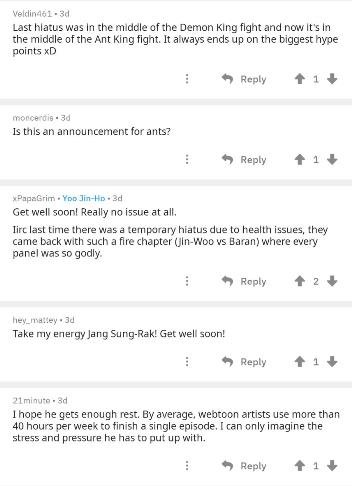 This article is solely written to thank the artists for delivering such great content by overcoming the odds. Not only solo leveling but to all the artists out there thank you for entertaining us with your best content.
---
---