Slime Rancher is a game that you should have on your list if you want to sit and relax while playing a game equally amazing. Yep, this game has the elements that will keep you intrigued while not putting much pressure on your mind. There are a lot of things that you can do, and perhaps the most important thing is catching slimes and stuff related to them.
One of such most important slime stuff is the Rad Plort. Here is everything you need to know about Rad Plort and where to find it –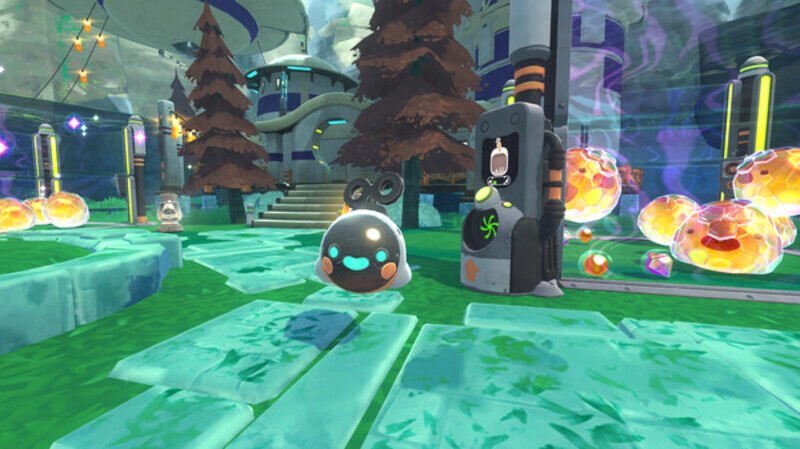 WHAT IS RAD PLORT?
Rad Plorts are the plorts that you can obtain from the Rad Slimes or Rad Largos. These rad plorts are basically mobile batteries and are valued because of their incredible energy-producing capabilities.
What do corporations do with these rad plorts? These are turned into "plortonium" and then are used in running everything, be it the holophone or a radwave micro cook system.
WHAT IS THE RAD SLIME?
The Rad Slime is a slime found exclusively in The Indigo Quarry and The Wilds entirely as Saber Largos. You can easily identify these rad slimes by their vibrant green color and also the green radiation aura surrounding them.
Do you get the damage while catching these? No. The Rad Slime does not deal any damage directly. But the aura surrounding it does give you damage. But this happens only if you are in contact for too long.
If you are in the aura for a long time, so long that the radiation meter fills up, it will induce rad poisoning into you. This will deal you 10 damage regularly, with increased frequency with exposure to more rad slimes.
WHAT IS THE FAVORITE FOOD OF THE RAD SLIMES?
These Rad slimes mostly eat vegetables, but their favorite food is the Oca Oca. They have this aura around them that rots the food they eat pretty quickly. So if you want to avoid wastage of food, you can try manually feeding your Rad slime, or avoid auto feeding or free-roaming Rads.
WHERE CAN YOU GET THE RAD SLIME AND RAD PLORT?
As mentioned earlier, you can find the Rad plort from these Rad Slimes and these are found exclusively in The Indigo Quarry and The Wilds. The Indigo Quarry is a zone that was added in version 0.3.0. You can access it from the Dry Reef through a cave, and in the Ancient Ruins.
You can find these Rad Slimes in the Rad Slime Gordo. The Rad Gordo can be found inside a cave beyond where you found the Rock Gordo. Starting where you found the first Rock Gordo in Indigo Quarry, you have to exit the cave and pass through the area with the Puddle Slimes. And you will find them!
This was everything you need to know about the Rad Slimes and how to get the Rad Plort in Slime Rancher. Follow Digi Statement for more guides like these.