Developed by Vine and Yacht Club Studios and published by Yacht Club Studios, Shovel Knight Pocket Dungeon is an action-packed puzzle adventure game. It was released recently on December 13, 2021, for PS4, Nintendo Switch, and Windows PC. The old gamers know that how much fun it is to play sideswipe games like this with controllers. As Shovel Knight is available to play on multiple platforms, in this article, we bring the list of all the gamepads or controllers for you that are currently supported by the game. If you are also planning to play this game using a gamepad or a controller, then you must prefer one of those mentioned in this article.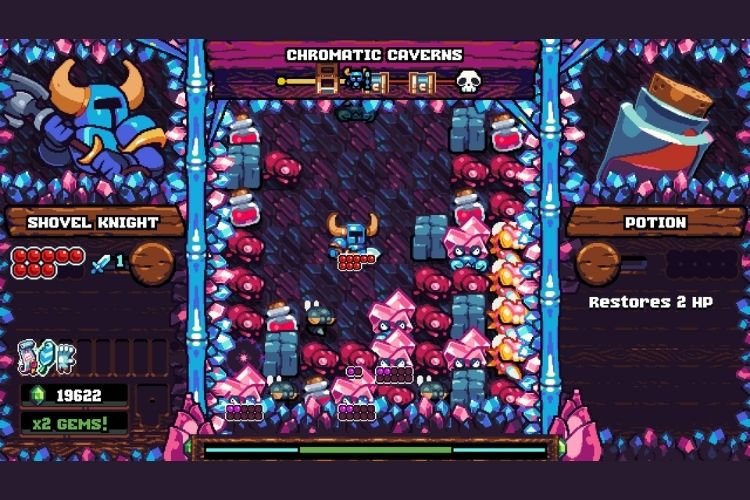 Shovel Knight Pocket Dungeon offers you to enter a world that is full of falling block puzzle games with a twist. This game presents a unique combat system in which you battle against your enemies with massive chain attacks while grabbing keys, power-ups, and potions to refill your health. In this game, you can take control of more than 10 of your favorite heroes from the Shovel Knight universe, each with a unique power and play style. Coming back to the main topic, here is the list of all the supported controllers and gamepads that you must prefer while playing Shovel Knight Pocket Dungeon.
Shovel Knight Pocket Dungeon Supported Controllers and Gamepads
As we all know, this game is only available to play on PS4, Nintendo Switch, and Windows PC. And out of these three platforms, two are the consoles that have their official dedicated controllers. For PlayStation 4, only DualShock 4 Controller is supported whereas, for Nintendo Switch, Nintendo Switch Pro Controller and Joy-Con (L & R) controller is supported.
Well, for Windows PC, there are more supported controllers as Microsoft does not have an exclusive controller or gamepad to support games. Here is the list of all the controllers and gamepads that are supported by Shovel Knight Pocket Dungeon on Windows PC:
Xbox 360 Controller
Xbox One Controller
Xbox Elite Controller
DualShock 4 Controller
DualShock 3 Controller
8Bitdo SN30 Pro Controller
Logitech F310 Gamepad
So, this was all about the supported Controllers and Gamepads in Shovel Knight Pocket Dungeon. If you found this article informative and helpful, share it with your friends.