Roblox is an online game platform and a game creation system that is very popular among fans. It has given birth to many interesting titles and game modes ranging from RPGs to Battle Royale titles.
Roblox is still very active in the community with its creative, immersive and engaging gameplay. The game has spread to multiple platforms such as PC, Xbox One and Mobile devices. Unfortunate for PlayStation 4 users, as the game is not yet available to them.
However, with the upcoming release of Sony's next generation console, can we expect a Playstation 5 release of Roblox ? Let's look into the possibilities of that happening.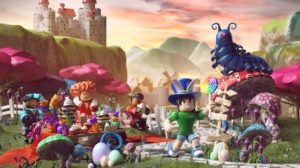 Back when the game was released, it was made exclusive to Microsoft's system like Xbox and PCs with Windows installed. To this date, it is not available on the PS4. However, Roblox Corporation has mentioned on their official website that they will release their game on PlayStation 4 in early 2021. Also, given the increased popularity of the game since it's came out, it would be a wise choice to expand its market.
The developers, Roblox Corporation have not yet announced any plans related to a Playstation 5 release. Similar titles such as Minecraft and Terraria are already available on Sony's gaming system. This might suggest a possibility for Roblox being ported to the PlayStation 5.
Since no official announcements have been been from any valid source, it is hard to say when it will come out. As of now, it hard to say if it will even come out on the PlayStation 5 or now. Given the information that the developers plan to introduce their game to Sony's current generation gaming system, the possibilities seem wider now.
We are keeping a close tab and will update you with new information once it is revealed. Be sure to check us out soon.