Returnal players haven't been able to enjoy the game due to a stream of issues. Recently, some players started facing a strange "Audio Stuttering" and "Sound not working" issue in the game. These are very immersion-breaking issues that completely ruin the whole mood. Returnal has some great soundtracks and the constant stuttering makes the game almost unplayable. Naturally, players are wondering if there is a way to fix this issue. So, if you are also looking for a solution, then you have come to the right place.
Returnal is one of the PS5 games that PC players have been desperately waiting for. The atmospheric combat scenes and the fast-paced gun fights make it an amazing game. On top of that, players can even join their friends in co-op to achieve victory. But, many are facing a variety of issues while playing Returnal. Some players have reported that the game is experiencing a Fatal Crash error. Others have come across a weird audio stuttering and sound not working issue. It is important to resolve these problems so that everyone can enjoy the game. Below, we are going to help you with this problem.
Returnal Audio Stuttering/Sound Not Working Issue: Is there any fix yet?
Unfortunately, there is no official fix for the audio stuttering and sound not working issue in Returnal. Players have been trying to grab the devs' attention to no avail. But in the meantime, you can try some other methods and workarounds to fix this issue on your own.
1) Restart the game-
A lot of times, a simple restart can fix audio glitches. So, we recommend doing this before you try any other complicated method.
2) Reboot your PC-
Next, reboot your PC as well. A bad system boot can trigger all sorts of issues while playing video games. You can simply reboot your system to get rid of these errors.
3) Verify the game files-
Now, missing or corrupt game files can also trigger multiple errors including the sound not working issue. You can fix this by repairing the game files through Steam. To d this, you will need to follow some easy instructions.
Launch Steam and go to Library.
Right-click Returnal and select Properties.
Head over to the Local Files tab.
Click on the verify integrity of the game files option.
4) Update all your drivers-
When we say update all your drivers, we mean all your GPU and Audio drivers. Outdated drivers are known to trigger all sorts of issues while playing video games. For your GPU drivers, visit either NVIDIA's or AMD's website and download the latest version of the driver. As for your Audio drivers, either visit your audio device's manufacturer's website and check if a new update is available.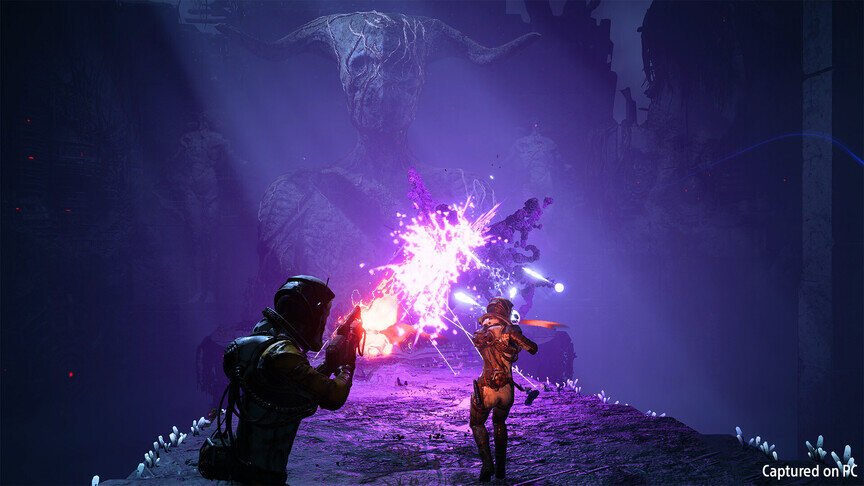 5) Switch to Audio 7.1-
From the in-game Audio settings, switch to Audio 7.1. Quite a few players have suggested that doing so will resolve the audio stuttering in Returnal.
6) Check your audio device-
Make sure that your audio device is properly connected to the PC. Incorrect or loose connections can also cause audio stuttering while playing the game. To check this, press the Windows key and type Sound Settings. Now, select the correct audio output device from the dropdown menu.
7) Install VP9 Video Extentions-
Players can try installing the Microsoft VP9 Video Extensions plugin to resolve this issue. To do this, follow the steps below.
Download the plugin from Microsoft's website.
Press the Windows key and type Powershell. Run the program as Administrator.
Type the following command and then press Enter to install the VP9 Video Extention plugin on your PC- Add-AppxPackage -Path C:\Users\Administrator\Downloads\Microsoft.VP9VideoExtensions_1.0.52781.0_x64__8wekyb3d8bbwe.appx.
Now, launch the game.
8) Install the game on SSD-
One player was able to resolve the audio stuttering issue by installing the game on an SSD. Devs also recommend players install games on an SSD rather than on a regular hard drive. Doing so will also improve the overall performance and the chances of running into audio issues are very low.
9) Reinstall the game-
If nothing else works out for you, then your last hope is to reinstall Returnal. However, this is a big hassle due to the large size of the game. But, this generally fixes small bugs and glitches. Also, keep your eyes open for any updates that might roll out.
Well, this brings us to the end of the article. We hope that you were able to resolve the issue. Stay tuned to Digi Statement for more such gaming guides.