High refresh rate is the new exciting spec to look out for in 2020 smartphones. And for a while 90Hz was considered pretty fast, the difference in smoothness being considerable enough compared to a 60Hz display. But in 2020, if you are a launching a flagship smartphone, you must crank it all the way up to 120Hz. Now whether there is a significant difference between 90Hz and 120Hz is a conversation into itself.
Since its 2020, even a 120Hz display is not enough. It must also be an AMOLED display. We need those high contrasts and inky blacks. So, when Realme teased their next smartphone on Weibo, expectations were high. Realme's Chief Marketing Officer shared a song playlist with songs having names like "Light," "Thin," "Fast," "Powerful" and "Soon." He also shared an image of a can of 7Up with the text "New, soon". So, speculations were high that Realme was going to announce the Realme 7.
And today the company announced on Weibo that it would be unveiling its X7 series smartphones in China on September 1 on local time. The line-up will consist of the X7 and the X7 Pro models. While the speculations might have been wrong, they are certainly exciting. The company also shared a poster which reveals a few key details.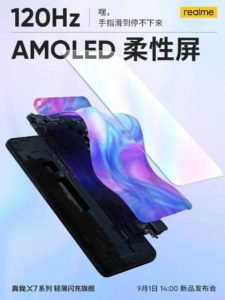 The line-up will come with a 120Hz AMOLED display and 5G capabilities. This will be the first time Realme is using a 120Hz AMOLED display as they previously used 120Hz LCD panels. Looking at the poster, we can also see that the display is going to have a small hole-punch display at the top-left of the screen. Not much else is known, but we can expect the phones to have impressive fast-charging support and powerful chipsets.
We are sure to come across more details in the run-up to launch.