Realme is a brand that not only manufactures great devices but also works on providing better user experience with every update. The popular Chinese tech giant has done it once again. Without any prior notice, Realme took the route of the official community site to announce a cool, new feature.
Realme has officially introduced the new feature called "Smooth Scrolling". This feature will be exclusive under the Realme Lab menu, for Realme UI users to be precise. Officials have confirmed that the Smooth scrolling feature will soon be out for devices running on Realme UI.

As the name conveys, this upcoming feature will drastically smoothen the scrolling speed. This feature is mainly to target the content-scrolling experience on apps like Twitter, Instagram, and even to navigate in the app drawer swiftly.
The smooth scrolling feature will dodge poor refresh rate and provide great touch response for every Realme device user. Check out the gif below. The left and write scrolling visuals are when the smooth scrolling is off and on respectively.
The officials claim that this feature is to enhance visual experience by a smooth and improved scrolling speed. Fortunately, we can already tell the highly distinguishable difference.
At the end of the announcement thread, officials asked for feedback from users who have already received the Smooth scrolling feature on their devices. Have you checked yet? Follow the steps below to check and enable Smooth scrolling in your Realme device.
How to enable Smooth Scrolling?
As mentioned already, this feature is not yet out for all the devices. But here's how to enable this mind-blowing feature in 3 steps.
Step 1-
Head over to "Settings".
Step 2-
Locate "Realme Lab" and open menu.
Step 3-
You will find the "Smooth scrolling" option with a toggle. Slide it right.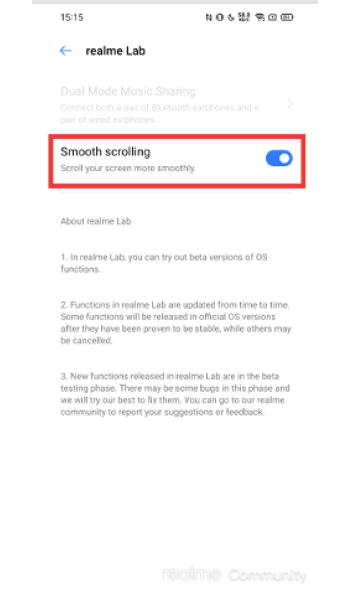 With that, you will have this latest Smooth scrolling feature enabled in your device. Have fun with an even better and optimized user experience!
We post related content and updates every day, so stay tuned! Also, share this article with all the Realme users.