OnePlus- the current most reputed Android brand in Asia that carries the legacy all across the globe, competing with pioneer brands like Apple and Samsung at the flagship range. But how often does a brand as big as OnePlus withdraw from promises made earlier? Seems like OnePlus took a step back by shattering the expectations of older OnePlus users.
OnePlus hinted or addressed three essential features to be pushed for older OnePlus devices at some point. But for months or years together, all that older users have been doing is just wait and watch OnePlus finally canceling on them. Here are those features that will never be pushed as promised for older OnePlus devices.
RAM Boost for OnePlus 5/ 5T-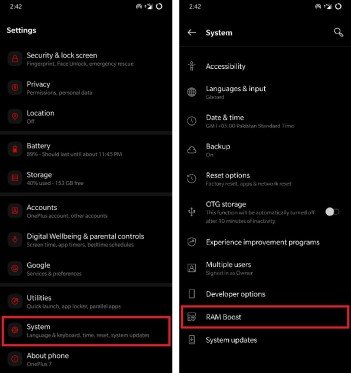 When the OnePlus 7 series was released last year, in 2019, the brand officials made a promise for older OnePlus device users. OnePlus 7 came with a new feature called RAM Boost. As the name conveys, this feature helps in better RAM utilization, improved performance, and RAM optimization. The best part is a feature as useful as RAM Boost was promised for older OnePlus devices- OnePlus 5/ 5T is one of them. It's been a year since the promise and OnePlus officially confirms (cancels, to be precise) that the RAM Boost feature will not be pushed for OnePlus 5/ 5T due to lack of hardware compatibility.
DC Dimming for OnePlus 6/ 6T
DC Dimming feature is specifically for smartphones with OLED or AMOLED screens. This feature helps to control the backlight and flickering of the screen and OnePlus launched this feature for its devices in 2019. But DC Dimming was released as a feature in the Beta version of the open-source Oxygen OS for OnePlus 6/ 6T. Many users thought that the feature is still in the testing phase and once ready for launch, OnePlus 6/ 6T users would receive the feature with a stable update. But cut to present, DC Dimming is still held back, and it confirms that OnePlus 6/ 6T will never get the feature.
The third feature was promised as an exclusive feature for OnePlus users in India. The Indian variant of OnePlus 6/ 6T came with the Caller Identification feature.
This feature was later promised to arrive for OnePlus 3/ 3T users with an Android 9 (Pie) update. OnePlus 3/ 3T users in India did receive an Android 9 update but unfortunately, there was no such feature called Caller Identification, confirming the cancellation.
We post related content and exciting updates every day, so stay tuned! Also, share this article with all the OnePlus users!