You know the motto, "Gotta Catch'em all!" But why are we bringing this up? Well, two new Pokemon have been added in Pokemon Scarlet and Violet. Although one will be available at a later date. Anyway, with the introduction of new Pokemon, you will surely be eager to catch them. It gets more exciting when you find out that these two additions are none other than Mew and Mewtwo. So, if you are looking for a guide on how to obtain these iconic Pokemon in Pokemon Scarlet & Violet, this is just the article for you.
Before we move forward, let us share some history about these Pokemon. So, Mew and Mewtwo are iconic and legendary Pokemon in the Pokemon franchise. Mew is known as the ancestor of all Pokemon, possessing the ability to learn any move, making it incredibly versatile. Mew's elusive nature and mysterious aura have made it a symbol of the franchise's secrets. On the other hand, Mewtwo is a genetically engineered Pokemon created through scientific experiments on Mew's DNA. It's one of the most powerful Psychic-type Pokemon, possessing immense psychic abilities and intelligence. Mewtwo's imposing presence and unique backstory have made it a staple in Pokemon lore. Considering all of these, if you are a true Pokemon fanatic, you will want to own these Pokemon in your collection as soon as possible. So, keep reading this until the end to capture Mew and Mewtwo in PSV.
Pokemon Scarlet & Violet (SV): How to get Mew & Mewtwo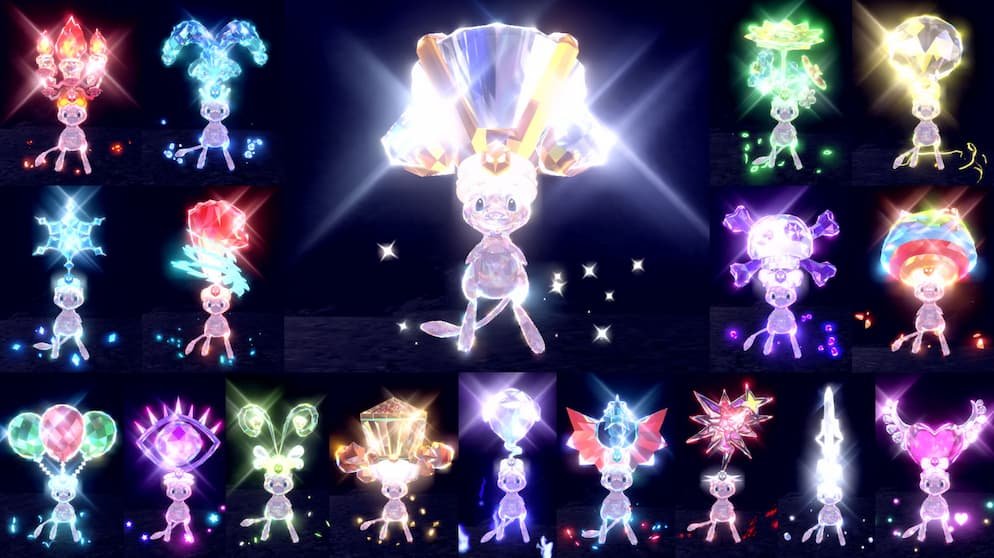 So, now that you have caught up with the lore and backstory of these two Pokemon, let us look at how to get them in Scarlet and Violet.
Mew
To add the elusive Mew to your collection in either Pokemon Scarlet or Pokemon Violet, you will have to utilize the Mystery Gift feature and enter the special password: GETY0URMEW. To access the Mystery Gift feature in PSV, follow the given steps:
Open Pokemon Scarlet or Pokemon Violet, and press the X button on your controller to open the menu.
Now, navigate to the Poke Portal option, and select the Mystery Gift option.
After this, enter the given password and claim your Mew.
This code will grant you access to this Legendary Mythical Pokemon, enhancing your gameplay experience. And, no, you cannot encounter this Pokemon in the wild. It's important to note that this password has limited validity and will expire on Monday, September 18, 2023, at 3:59 p.m. BST. So, make sure to act before the expiration date to ensure you secure Mew and make it a part of your Pokemon adventure. Mew will be a valuable asset as you gear up for the ultimate showdown against Mewtwo. Keep in mind that the epic clash with Mewtwo awaits in the upcoming Tera Raid battle, scheduled for the next month.
Mewtwo
Getting your hands on a Mewtwo is a bit different and does not involve any codes or a mystery gift. So, to obtain Mewtwo, you'll need to participate in the Mewtwo Tera Raid Battles that are scheduled to take place from September 1 to 17, 2023, in Pokemon Scarlet and Violet. Engage in these intense raid encounters and showcase your skills to defeat Mewtwo. Once you've successfully defeated it with the help of your Mew that you claimed earlier, you'll have the chance to capture this powerful, legendary Mewtwo with the Mightiest Mark and add it to your collection. So, don't miss out on this limited-time event to acquire Mewtwo and strengthen your team!
Well, that is how you can get both Mew and Mewtwo in Pokemon Scarlet and Violet. The good thing is that time is on your side, so get ready for some intense battles. Anyway, this brings us to the end of this article. We hope all your doubts regarding this matter have been cleared. For more gaming-related guides and all your queries, make sure to visit DigiStatement regularly. Read more: Pokemon Scarlet & Violet (SV): All Shiny Locked Pokemon List