Niantic announced a series of updates last night about the new changes coming to Pokemon GO in July. The new content includes legendary Pokémon Kyurem in the raids, one more featured Pokémon and a new weekly pack of Search Missions.
*Update version*
*July Pogo Month Infographic*

*with field research reward for July, Kyurem debut/raid hr dates, Spotlight mons #pokemongo pic.twitter.com/u3rENddgh7

— PkmnGoBobby TL40x5 (@PkmnGoBobby) July 1, 2020
First in the update was the introduction of Larvitar! From July 1st on 1:00 PM PDT to the 1st of August, he will be available in the weekly pack of Field Research Missions. You might also be lucky and find a Shiny Larvitar. The next part is the real deal though, after Reshiram and Zekrom, the third legendary Pokemon will be available from 7th of July.
As stated in the post by Niantic:
First came Reshiram, then Zekrom—now, Kyurem is coming to Pokémon GO! Starting Tuesday, July 7, 2020, at 1:00 p.m. PDT (GMT −7), Kyurem, the Boundary Pokémon, will be waiting for you to challenge it in five-star raids. In addition, there will be Raid Hour events featuring it every Wednesday at 6:00 p.m. local time while it's in five-star raids.
We are here to help you catch the legendary Pokemon with the best strategy, counter and a solid raid guide.
Kyurem Raid Guide & Counters
Raids can be extremely rewarding or downright atrocities so we are here to help you! The best possible combination of Pokemon to counter the Kyurem is Metagross and Shadow Metagross, though they might not be the most explosive in terms of DPS, they exploit Kyurem where it is weak.  Lucario, Shadow Gardevoir, Shadow Tyranitar & Shadow Dragonite are others amongst the solid counters as well. This will almost ensure that you have get the legendary pokemon on your hands in no time! We used the Pokebattler simulator to test for the best results. This raid analysis was based off simulating combat with a defending Kyurem with 43478 CP and level 35 attackers.
Here is a neat infographic that will help you in your battle with Kyurem: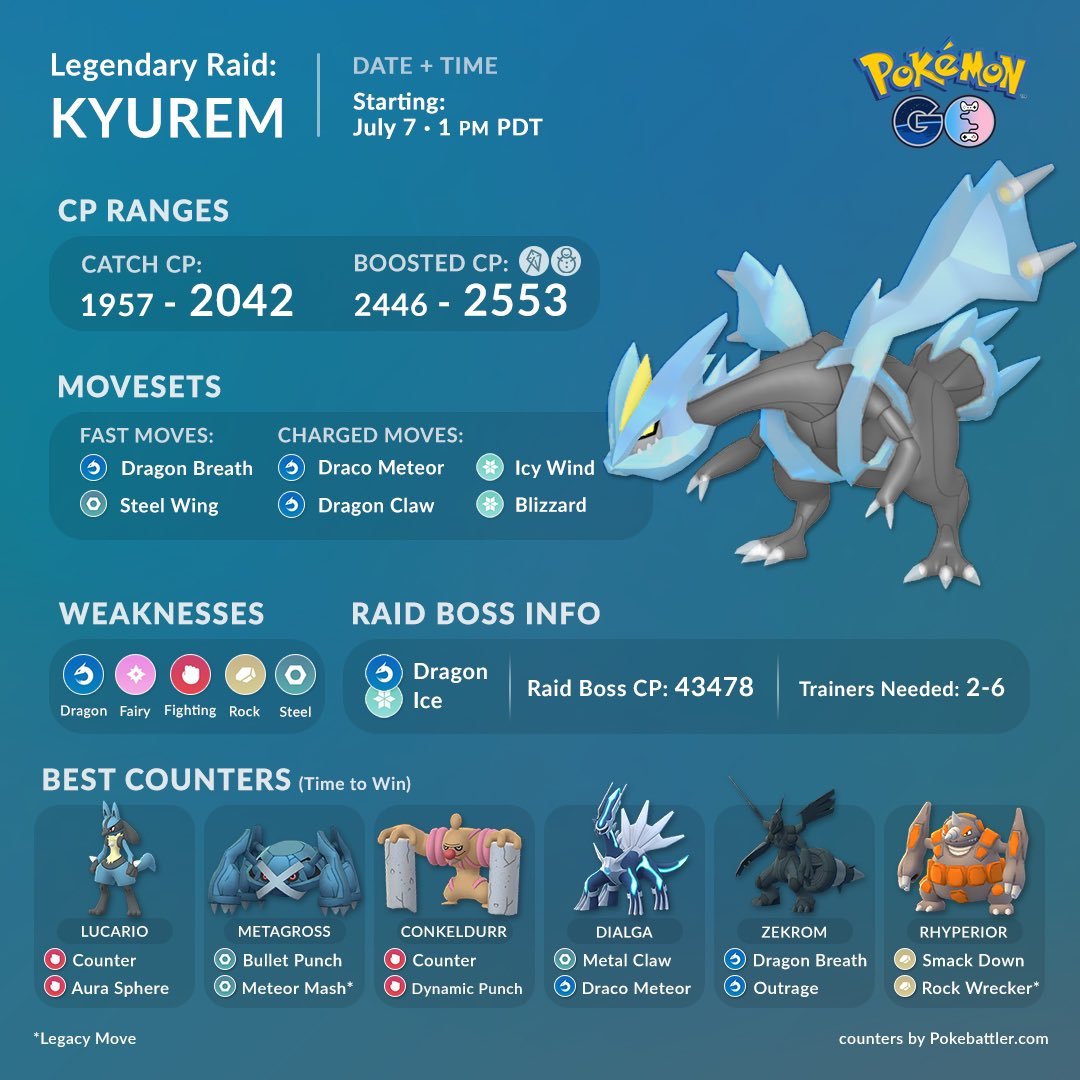 Despite not having any double weaknesses, Kyurem may not be that hard if played properly.
Have fun raiding.