PMPL South Asia is a professional PUBG Mobile league organised by Tencent Games, PUBG Corporation and Nodwin Gaming. It puts South Asia's top contending teams toe to toe with eachother where they battle to come out on top. The top qualifying teams then make their way to the global level where they represent their country.
The PMPL South Asia 2020 commenced on 22nd May and has since then seen many top tier teams obliterate each other. The league concluded with its final which went on for three days from 12th-14th June. The results were announced today on the PUBG Mobile India twitter handle.
According to the final results, 7 teams have qualified to represent India on the global level in the World League. These teams are :
Orange Rock
TSM Entity
Godlike
SynerGE
Celtz
MegaStars &
TeamIND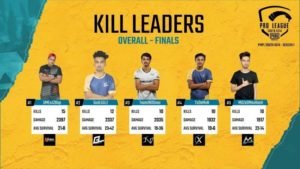 A total of 5 matches were played on Day 3 of the finals on 14th June. Team Celtz came out on the top with 213 points and 2 well deserved Chicken Dinners. They were closely followed by TSM Entity and MegaStars with 202 and 167 points respectively. Following is the ranking sheet of all the teams qualifying PMPL South Asia.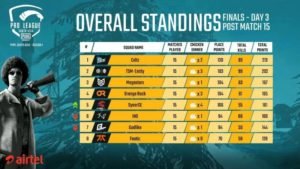 The prize pool for PMPL South Asia 2020 was $200,000. Earlier only 5 teams were set to qualify for the World League but then 2 additional slots were opened. Now 4 teams have made it from the league stage and 3 teams have directly qualified for the World League.
From the results, TSM Entity, SynerGE and TeamIND have qualified directly whereas the remaining 4 have come from the club open India. The following list shows the bottom half of the teams appearing in the finals.
PUBG Mobile World League is set to commence from 10th July, 2020. The prize pool will be a whopping $850,000. It's time we cheer for our qualifying Indian teams and wish them luck. Let's bring the cup home!