Okay, so Overprime is the next MOBA game that we are expecting and it has created hype in the market already. But if we talk about MOBA games, what is the first thing that comes to your mind?
No, we are not talking about the game style and all that. One of the most important stuff in the MOBA games is the heroes they have. And Overprime will be featuring more than 20 of them, and that is what the devs have confirmed.
However, we still do not know about all the heroes that we will have in the game, but we have some information about at least some of them. Well, here are some of the heroes who we will be using in the game Overprime –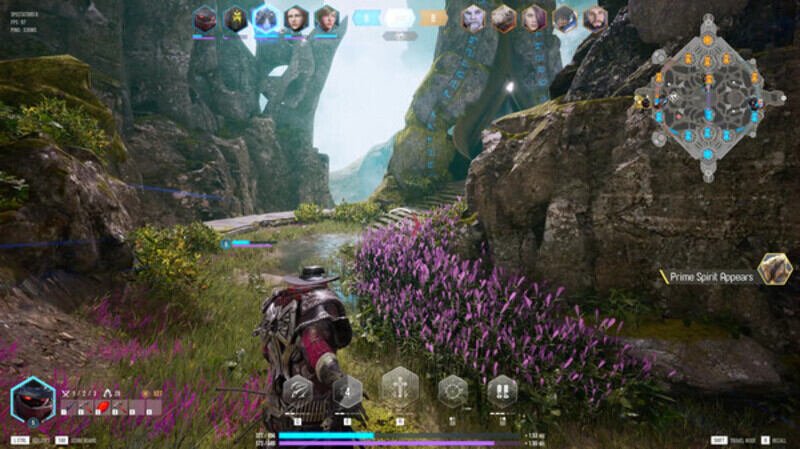 SHADE
Type – Ranged damage dealer
Race – Shadow Human
Origin – Lutas
Affiliation – Independent
Basic Attack – Wild Revolver, fires a gun loaded with four rounds
Shade is a space nomad gunslinger and a ranged damaged dealer. He mostly attacks the enemies using a revolver loaded with four rounds. Seems too simple? His shots inflict dark wounds on the enemies and slow down their movement.
He is a master of stealth and you can track enemies in the dark using his blazing eyes. And, he also creates an abyss that cuts the enemy off from the outside world and keeps him trapped.
KAYLA
Type – Assassin
Race – Cyborg
Origin – Sanctuary Armonia
Affiliation – Setricta
Basic Attack – Dusk's Teeth, cloaked by Crimson Dust, cuts down a nearby enemy
Kayla is a ruthless cyborg warrior who is also known as the Mother of Dusk. Why? We don't know the reason yet! She has a special stealth kill, the Illusion Plasma, and uses it to hide in the dark and attack the enemies.
Her weapon is a pair of blades known as Dusk's Teeth which she throws at her enemies. Once hit by these blades, the enemies take lethal damage. That's not all. When Kayla turns evil, she closes in on her enemies to deliver a more dangerous, fatal blow!
TIANA
Type – Ranged Support
Race – Fairy
Origin – Lutas
Affiliation – Eupera
Basic Attack – Intervening Forest, fires at the enemies with the energy of the sacred forest
Tiana, the forest fairy, comes from the same place as Shade. She is a ranged support character and can make plants bloom. Don't take this lightly! She uses her forest-blessed powers of nature on the enemies and impedes their movement.
The plants that bloom under Tiana's touch are surely not flowering ones! They devour the enemies in an instant and inflict lethal damage. So you can neutralize the enemies in their bases using Tiana's power.
EIRA
Type – Ranged Support
Race – Cyborg
Origin – Sanctuary Armonia
Affiliation – Independent
Basic Attack – Divine Shot, summons the hand of the Archangel Osyne to fire a divine shot at an enemy
You wanted a medic cyborg, did you? Here she is. Meet Eira, the Sanctuary Guardian. She is a ranged support character who has the primary task of protecting her allies. The best part about Eira is that she pretty quickly adapts to any kind of battlefield using her cyborg body. Using her divine crystals, she protects her allies and uses the Divine Shot to punish the enemies. She is The Guardian Angel, and can leap into her ally's defense anywhere on the battlefield to protect them!
VALORA
Type – Ranged Caster
Race – Human
Origin – Alkima
Affiliation – Alkima Army, Black Falcons
Basic Attack – Expert Tactics, loads a pulse machine pistol and fires at enemies
She is a human, but she is as highly capable as the others. Valora is the commander of the Black Falcons and is a long-range caster. She mainly uses her pulse machine gun to subdue the enemies.
As a long-range caster, she has bombs that can incapacitate enemies and null gates that can disrupt the earth and send enemies flying. She also makes use of Black Falcon's signature drone tech and paralyzing projectiles.
CYNTHIA
Type – Ranged Support
Race – Human
Origin – Zetar
Affiliation – Flares
Basic Attack – Shooting energy, shoots energy at the enemy
Cynthia is another human on the list, or maybe a superhero. She dreams of becoming a superhero and being a ranged supporter, she saves her allies using her superpowers, i.e. powerful energy waves.
Her energy waves are powerful enough to connect to the allies and restore their strength or pull them away from danger. She can also change the course of the battle by blinding the enemies using her powerful bursts of energy.
SCUD
Type – Ranged Dealer
Race – Human
Origin – Alkima
Affiliation – Alkima Army, Black Falcons
Basic Attack – Enhanced Pulse Bullet, fires an enhanced pulse bullet at the enemy
If you are a long-range player or a sniper, Scud is for you. He is an outlaw of the Alkima Army and can attack enemies from great distances using his multifunctional pulse rifle. He also has homing missiles that shoot accurately in siege mode and unleash explosive power. Not only that. He is very good at super-precise shots and can snipe any target he wants, from any distance and on any terrain.
TERRAK
Type – Tank
Race – Ediaca
Origin – Japotec
Affiliation – Independent
Basic Attack – Furious Scratch, delivers a lethal blow to the enemy using his sharp claws
He is the mobile tank, and you can use him if you want to leap straight into the battle and deal damage to the enemies. He can tear through the enemies using his sharp claws and can pull up rocks from the ground to incapacitate them. That's not all. He can also make his body grow bigger, thus protecting his allies by pushing the enemies away.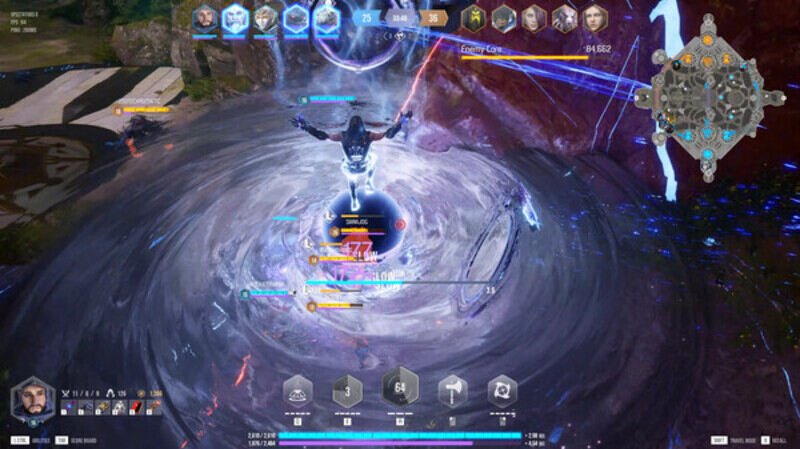 COSMOS
Type – Ranged Caster
Race – Human
Origin – Lutas
Affiliation – Ompalace Imperial Wizards
Basic Attack – Mass of Magic, fires a mass of concentrated magic at enemies.
Here comes the wizard of the game with some serious ancient magic. The primary power of Cosmos is portals. He can summon portals to quickly move through space and attack his enemies.
Not just that, his portals can suck the enemies into spaces beyond and inflict heavy damage as well! So choose Cosmos and use his portals to travel into the enemy bases and confuse them.
TAO
Type – Melee Fighter
Race – Ahn
Origin – Yusia
Affiliation – Huahn
Basic Attack – Firm Will, attacks enemies by swinging the Huahn tribe's secret scimitar
If you are done with wizards and guns and all, here is a melee fighter for you – Tao. He is a great close-range fighter and is good with spears. He can approach the enemies from a distance and attack with his Spear of Dawn to inflict heavy damage. Want something more? His strong determination has the power to kill an enemy in one blow!
URUK
Type – Melee Fighter
Race – Ektasia
Origin – Japotec
Affiliation – Independent
Basic Attack – Ferocity, swings at enemies with a massive two-handed club
Here is another melee fighter named Uruk. He looks vicious, and he is vicious. His weapon is a two-handed club made up of very hard rock and has mighty destructive power. What does Uruk do? He simply jumps into the battlefield, charges in with explosive speed, swinging his club and subduing enemies. And when his wrath is unleashed, the sky turns blood-red.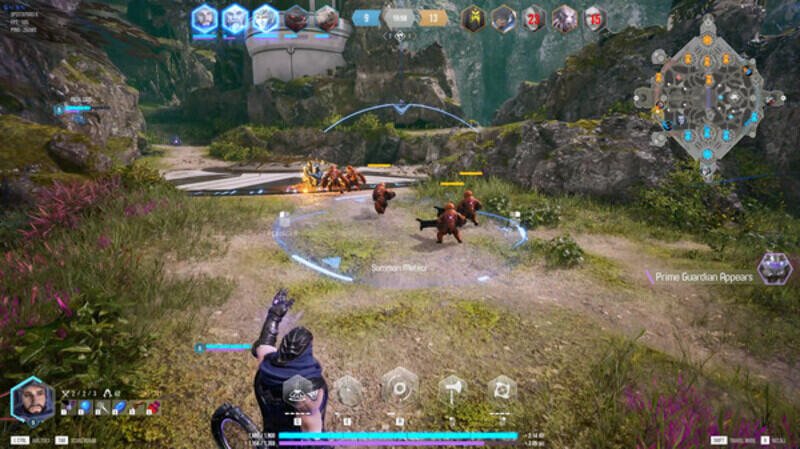 DEMORIUS
Type – Tank
Race – Devil
Origin – The Distant Nebula
Affiliation – Mate's subordinate
Basic Attack – Hammer of Disaster, attacks the enemy in front with a huge hammer
If you didn't like Terrak as a tank, here is the devil himself – Demorius. He simply drains the life of other players to accumulate his own power. He is made of void, can run between heroes without colliding, and just seizes the control of an enemy's breath! Don't forget that his massive hammer can send enemies flying, dealing lethal damage!
There is one more hero named Adele but we have no information about her right now. However, these are the heroes that we are going to get in Overprime for sure. Follow Digi Statement for more guides like these.