Outriders being released just a day ago is currently facing many issues. Well, for a new game it is often normal to be full of bugs and issues but if they don't get fixed soon, the player experience can degrade exponentially. Many players are currently facing issues regarding crashes, stuttering, and fps drops. In this article, we will be providing you with some temporary fixes to these problems. Continue reading to know more.
Outriders- Hard Crash to Desktop, Stuttering, and Fps issues
According to the game devs( People Can Fly and Square Enix's European subsidiary), due to the faulty implementation of DX12 in the game, many players are facing crashes, stuttering, and even shader cache issues irrespective of the PC specs. This is happening due to the overload of the CPU. However, the devs are currently investigating the issue and will be providing a fix soon.
The devs even released a potential workaround to this issue by providing codes to force launch the game in DX11 but players have reported that the method doesn't work and the game still launches on DX12. However, there are other workarounds that can be useful for some.
We will be showing you the exact workarounds as released by the devs in the Reddit Post.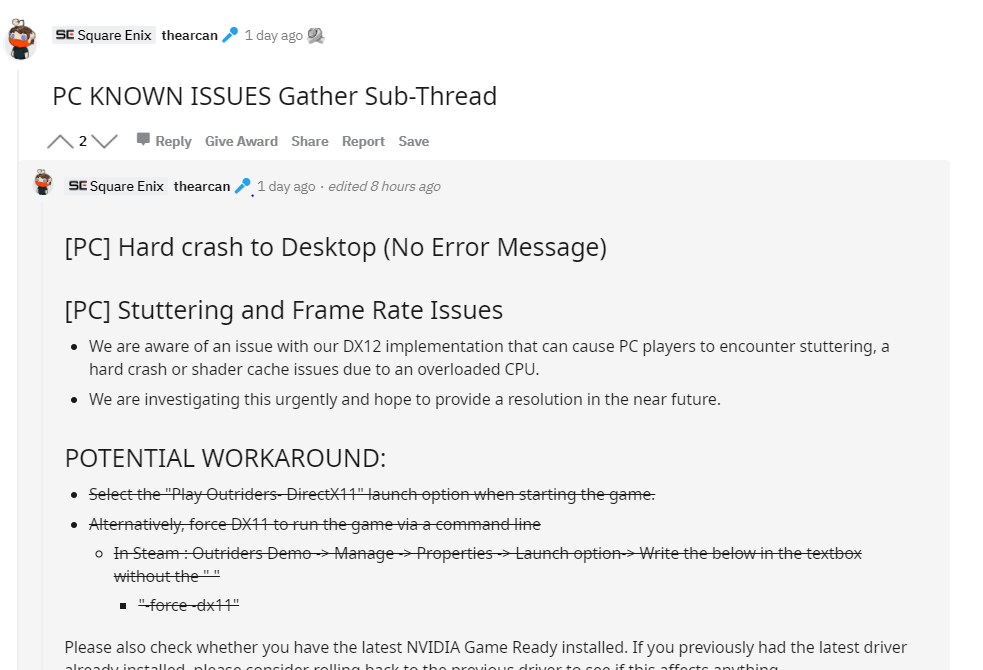 Outriders- Crashing, stuttering, fps drops can be fixed with these workarounds
Disable Ansel

Disable DLSS

Turn Vsync off

Play in Windowed Mode

Enable your FPS Limiter and choose various limits to see if improvements are made

Ensure Controller Configuration is supported (thread)

Controller Config Check:

Launch Steam in Big Picture

From the Big Picture main menu select the gear icon

Under controller , select controller settings Ensure your specific controller is enabled/turned on

Navigate back to the Big Picture Main menu

select Library

Select Outriders

Select manage game

Select controller configuration

Select Browse Configs – Templates

Select Gamepad
So, if you are really interested to play this game, try out these workarounds and check if the game performs well.
Note- These are just temporary fixes that may/ may not work. The devs are investigating the issue & will provide a permanent resolution in the new patch update soon.
Outriders- Crashing, Fps drops, Stuttering patch update Release Date
As of now, there is no ETA for the patch update. However, we think it might be released in a day or two. The devs won't be taking long to fix the game-breaking bugs which are capable of ruining the game's experience exponentially.