Letgo is now a part of OfferUp and you can shop local items, find deals and sell in seconds. Both the apps are now one large mobile marketplace. You can buy, sell and shop deals on various unique items nearby. It doesn't matter if you want to make some extra money by selling the used furniture or do some shopping, the choice is yours when you choose OfferUp. The app makes it easy for you to find the best deals on the things you want and make money on the things you wish to sell. The best way to buy and sell in your community or neighborhood with a mobile marketplace you trust is to ditch the classified ads and garage sales.
You can buy and sell anything and offer your items for sale in just 30 seconds. You will get the best deals and discounts on clothes, shoes, furniture, vintage fashion, cell phones, electronics, baby and kids items, sports equipment, used cars, home goods and others. You can use reputation features like ratings and profiles to check who you are dealing with and build trust. You will be able to shop local items for sale with many new postings everyday.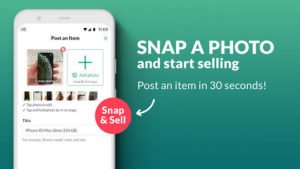 Well one thing that matters a lot for us when we go for online mediums is that if the site or the app is genuine or not. Let me tell you that OfferUp has helped people to sell stuff locally online to the tune of around more than $20 billion. OfferUp is based in Washington and employs around 200 staff members. The app has continued to gain recognition from popular publications like Fortunes, Forbes and Business Insider. The reviews and complaints of OfferUp have come from buyers and sellers who have been involved in an OfferUp scam.
On the basis of the complaints that have been closed in the last 3 years, the app has been awarded with an 'F' rating which is the lowest possible score. The site responds to most of the complaints but many customers are not happy with how their problems have been solved, as a result of which, customers have also given negative reviews to the site. Users have also expressed their frustration towards the improperly advertised and broken items for sale but a few have also recommended to use OfferUp to buy and sell used stuff but have also mentioned that you will be responsible in case if something goes wrong.
Overall, I would say that you might have to think a thousand times before you use OfferUp. Compared to other apps, OfferUp is not that much popular and so for now, my recommendation is to go for other apps instead of OfferUp.