ColorOS 7.1 is in the market for long, the Reno4 series finally brought along not just great devices, but the most amazing ColorOS 7.2. The Reno4 series are the kind of devices that garner a lot of attention when you walk into a room with! Especially the Reno4 Pro which only weighs around 170 grams, looks extremely stylish and catchy.
As the title reads, you must be curiously waiting for ColorOS 7.2 after what the Reno4 series introduced the world to. The very catchphrase of ColorOS 7.2 says, "Design for Aesthetic, Beautify your Mobile World."
ColorOS 7.2 Availability-
If you are wondering when this very aesthetic version of the software, ColorOS 7.2 will be available for your device, the date is currently "unavailable". Well, at least that's what the Oppo officials have been tweeting and replying around, leading users to immense range and worries.
Oppo users around the world and especially in India have been tagging the official Oppo page and questioning about the ColorOS 7.2 availability. All that the customer care account has done is personally reply to these users stating, "details about ColorOS 7.2 is currently unavailable".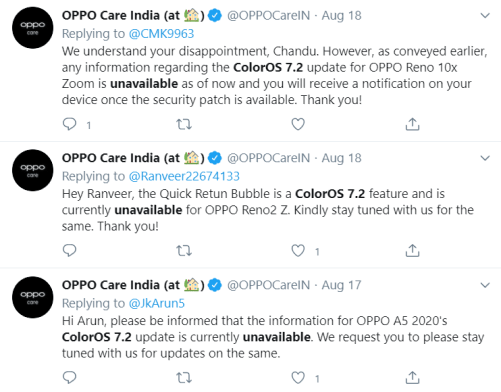 So, now you know that the release of ColorOS 7.2 for devices other than the very Reno4 might take a while to hit the markets. However, this update is based on Android 10. So, it is within August when you will finally get an official word about ColorOS 7.2.
ColorOS 7.2 Eligible devices-
Evidently, there is no trace of the device list for eagerly waiting users. However, we have a list of possible devices that might receive the ColorOS 7.2 update. So here's the list.
Oppo Find X series
Oppo Reno 10x Zoom
Oppo K3
Oppo F9 series
Oppo Reno
Oppo Reno2 series
Oppo A5 2020
Oppo A9 2020
Oppo F7
Oppo R17 Pro
We hope to update this article soon, with an official roadmap of ColorOS 7.2. Comment down your expectations as well.
We post related content and interesting updates every day, so stay tuned! Also, share this article with all those who are waiting for ColorOS 7.2.